This is an archived article and the information in the article may be outdated. Please look at the time stamp on the story to see when it was last updated.
A man got a chainsaw stuck in his neck, and lived to talk about it.
James Valentine trims trees for a living in Ross Township, Pennsylvania.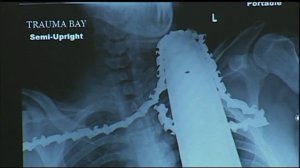 He turned his saw at an odd angle to avoid hitting a power line Monday, and it kicked back on him. The moving blade went through his left shoulder and into his neck.
Doctors had to leave the chainsaw stuck in James' neck until they could stop the bleeding. They say it missed some vital arteries by just an inch or two.
James is expected to survive, and he says he's eager to get back to work.