This is an archived article and the information in the article may be outdated. Please look at the time stamp on the story to see when it was last updated.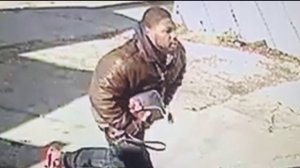 CHICAGO – A man who admitted to beating and robbing a WWII veteran in her Southwest Side home in December was sentenced to 20 years in jail Wednesday, according to the Cook County State's Attorney's Office.
Olajuwon Claiborne, of Chicago, confessed to police that he followed then 94-year-old Josephine Regnier into her home and punched her before taking off with her purse.
Regnier suffered broken ribs, a black eye and a head injury. Police said there was $50 inside her purse.
Claiborne was arrested after surveillance video showed him crashing a stolen SUV and running down an alley carrying Regnier's purse.
Claiborne was initially charged with two counts of aggravated battery and two counts of robbery, but received the 20-year sentence after pleading guilty to Home Invasion. He also pled guilty two robbery charges not connected to the December incident, and was sentenced to seven years to be served concurrently.