This is an archived article and the information in the article may be outdated. Please look at the time stamp on the story to see when it was last updated.
Police are looking for a man who robbed a Subway restaurant next to the Chicago Cultural Center.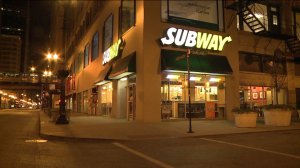 It happened on 66 E. Washington Street at about 12:50 a.m Monday morning. According to police, a man walked into the Subway, pulled out a gun, and demanded money. He reportedly got away with about $400.
No one was injured.
The man is described as in his 20s, wearing a dark hooded sweatshirt. The description is consistent with descriptions of a man suspected in at least 10 robberies across Chicago's North Side.
The holdups took place between Jan. 18 and Feb. 10, police said. The robberies happened at restaurants, convenience stores and drug stores including: a River North Dunkin' Donuts and a Lincoln Park 7-11 store.
Authorities have not officially linked the robberies.