This is an archived article and the information in the article may be outdated. Please look at the time stamp on the story to see when it was last updated.
A man and a 17-year-old girl are in the hospital after being shot on the South Side.
It happened late Thursday night in the 6800 block of South Wabash Avenue.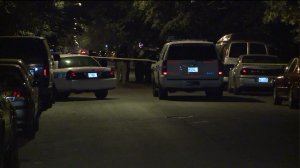 The two were standing outside when the driver of a dark colored vehicle pulled up and opened fire.
The girl was shot in the chest and arm.
The man was also shot in the chest.
Both are in stable condition.
So far, no suspects are in custody.
Four other people were hurt in shootings on the south and west sides since Thursday afternoon.