This is an archived article and the information in the article may be outdated. Please look at the time stamp on the story to see when it was last updated.
CHICAGO — A man who alleged he was framed by former Chicago police Sgt. Ronald Watts won his freedom Monday after serving nearly 10 years in prison.
Anthony McDaniels said Watts' officers arrested him on false gun charges when he refused to pay them  a bribe. His conviction, which led to a 12-year prison sentence, was based largely on the officers' testimony.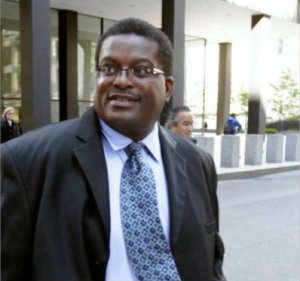 McDaniels is the latest of two dozen people to have their felony drug or gun convictions based on Watts' team's investigations be tossed out of court.
Watts in 2013 pleaded guilty to stealing thousands of dollars from an FBI informant.
McDaniels was released Monday afternoon around 2:30 p.m. Prosecutors earlier in the day dropped gun charges against McDaniels.
McDaniels' sister, LaShawn McDaniels, now a third year law student, was by his side to see her brother freed.
"It's just been very emotional to just endure this. He has a father that passed during his incarceration. His mother is ill, his son is ill so he's been through a lot," LaShawn McDaniels said.
In 2008, McDaniels said when he refused to give officers money during a shakedown they concocted a story and planted a gun.
"These officers have a very, very long and disgraceful history of planting drugs and guns on individuals who would not cooperate with them or really any individuals who got in the way of their corrupt money making scheme," Joshua Tepfer, attorney, said.
Anthony McDaniels, a man of few words, said it "feels good" to finally be out.