This is an archived article and the information in the article may be outdated. Please look at the time stamp on the story to see when it was last updated.
A man was killed and a woman was injured in a shooting on the Dan Ryan Expressway.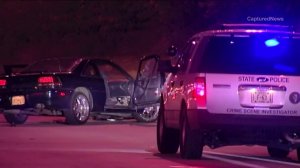 It happened around 1 a.m. Sunday on the ramp between 71st and 75th streets, on the southbound side of the expressway.
The Cook County medical examiner's office identified the dead man as 27-year-old Frederick Taylor, of the 14000 block of Atlantic Avenue in Riverdale. He was pronounced dead at Advocate Christ Medical Center at 3:14 a.m.
The woman was transported with a gun shot wound to the chest.
A third person in the car, a man, survived. Police could be seen talking to a man outside a damaged dark-blue car stopped on the ramp early Sunday morning.
State police shut down all southbound lanes to search the stretch between Garfield as ten troopers fanned out and scoured the pavement for evidence. They are still investigating the shooting.
No arrests have been made.