This is an archived article and the information in the article may be outdated. Please look at the time stamp on the story to see when it was last updated.
CHICAGO — Chicago police say two murders committed within 36 hours and a half mile of each other in Rogers Park were likely committed by the same person with the same gun.
"I can tell you that the shell casings found at both crime scenes… were found to be a match," Chicago Police Department Supt. Eddie Johnson said during a press conference Tuesday.
On Monday night around 10 p.m., 24-year-old Eliyahu Moscowicz — known as Ellie to his friends — was walking along a path at Loyola Park near the 1100 block of West Lunt Avenue when he was shot in the head from close range.
Marcia Grubb lives nearby, and said she heard the shots that night. Grubb went to her window and didn't see anything. She says people blow off firecrackers at Loyola Park all the time.
"It was just like a pop and then a hesitation and then another pop," Grubb said.
A witness found Moscowitz lying face down and called police, he was later declared dead from a gunshot wound to the head. His friend Adam Thornburg was walking by and heard police cars zooming down Lunt, but didn't learn of his death until Tuesday morning.
"You're hoping like it's just a misprint like maybe they got somebody's name wrong. He's 24 years old. He's a nice guy," Thornburg said.
Chicago police said both slayings were connected during a 3:30 p.m. press conference Tuesday
Less than a half mile away, 73-year-old Douglass Watts was shot and killed while walking his dogs around 10 a.m. Sunday. Police say a gunman dressed in black and wearing a ski mask just walked up to Watts and shot him.
Neighbor Lynda Kaplan found Watts facedown in front of his home on the 1400 block of West Sherwin, and said he had been shot in the head "execution-style."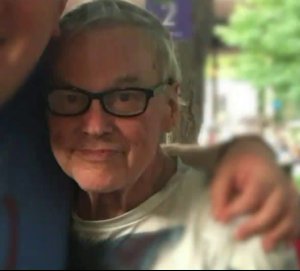 Johnson said the similar manner in which the two men were killed has thrown up red flags, and police are reviewing hours of private and public surveillance video from the area. An image captured at one of the murder scenes shows the suspect wearing dark clothing and a ski mask in an attempt to hide their identity.
Johnson said Watts and Moscowicz did not appear to be connected in any way. Detectives are looking into all motives, including hate crimes. No one is in custody for either shooting.
"There's someone out there who knows who this person is," Johnson said. "We need you to do the right thing and call the police."
Police plan to saturate the lakefront and nearby areas in a way similar to how they handle summer gang violence, Johnson said.
"What you will see is a very heavy police presence in the neighborhood until we bring this individual to justice," Johnson said.
Describing Rogers Park as a "close-knit" and "resilient" community, Mayor Rahm Emanuel called on neighbors in the area to "go about their lives" while also being "vigilant."
Johnson said anyone with information should call CPD's anonymous tip line at 312-744-8263.
Moscowicz was known as an avid Pokemon Go player and a member of an online community of people who play the game. A vigil was held for him Tuesday night at 7 p.m. in Loyola Park near the playground as friends gathered to say their goodbyes.