This is an archived article and the information in the article may be outdated. Please look at the time stamp on the story to see when it was last updated.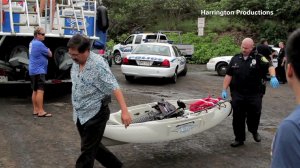 A man vacationing in Hawaii died after his foot is bitten off by a shark.
The man was dangling his foot from a kayak while he was fishing near the island of Maui Monday.
His friend, who also was on a kayak, saw the attack and rushed to help.
They applied a tourniquet but the man died on the way to the hospital.
This is the thirteen shark attack reported in Hawaii this year. The region averages only four attacks per year.
Researchers at the University of Hawaii have launched a two-year study to get to the bottom of why these attacks are increasing.