This is an archived article and the information in the article may be outdated. Please look at the time stamp on the story to see when it was last updated.
A month long murder case in NW Indiana has been solved. On Thursday, police charged  a man who they say used to work with a well-known businesswoman who was kidnapped and murdered weeks ago.
Robbery and retaliation both speak to motive and that is something police will not talk about. All they will say is that the suspect they charged with murder, robbery and criminal confinement was working alone. Mary Austgen's family says the charges mean something else to them tonight.
The victim's son, Jeff Austgen, says "It means  a lot of time in prison."
A lot of prison time perhaps for this man. 57-year-old Ralph Martinez charged with killing 76-year-old Mary Austgen last month.  It's been a week full of emotional highs and lows for the Austgen family. First the frenzy to find their mother's killer, now the reality that she's gone.
Police say Martinez was a tenant of Mary Austgen's a year, maybe two years ago.
She was a successful property owner in Griffith who rented storage space, managed trailer parks among other things.   Police claim  Martinez may have been disgruntled or bitter about being evicted. They are certain he is the one captured on surveillance at the Austgen business on March 28th— taking 76-year-old Mary away in her own car to a casino in Gary.
Her body was found lifeless there the next morning. A gunshot wound to the abdomen.  Pictures released of the suspect along with pictures of the jewelry stolen from Austgen that night, led Ralph Martinez's ex-wife to wonder if he was somehow involved.
Austgen's rings were stolen and so was nearly $3,000.
In a court document released today Ralph Martinez told his ex-wife:
"That's not me. Lots of people with money get killed."
Her suspicions, however,  were confirmed when police offered a $10,000 reward in the Griffith murder, and Martinez allegedly told his ex-wife:
"Is that all I'm worth?"
She turned him into police the next morning.
She told detectives she later spotted one of Austgen's missing rings at her own home and a .38 caliber gun inside a black and red bag– the gun  matched the weapon used in the murder. The bag can be seen in the surveillance video.
Locals in Griffith mourn for the family so well known all over this small Indiana town.
Police are no longer looking for anyone else connected to this murder– but they are looking for additional information. Anyone who can help should call Griffith police.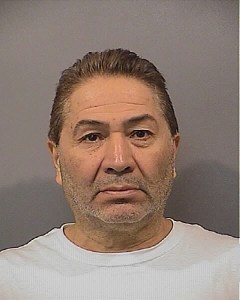 Here's tweets from our reporter Julie Unruh about the suspect.
3pm Murder charges to be announced in #griffith IN businesswoman death. @UnruhJulie will have latest wgn news at 5.

— Julie Unruh (@UnruhJulie) April 25, 2013
#griffith murder suspect: Ralph Perez Martinez. Details about case to follow with @WGNNews

— Julie Unruh (@UnruhJulie) April 25, 2013
#breaking news-#Griffith IN murder suspect. @WGNNews pic.twitter.com/7fkaYmFhXo

— Julie Unruh (@UnruhJulie) April 25, 2013
A news conference is expected soon. We'll stream it live on wgntv.com.