This is an archived article and the information in the article may be outdated. Please look at the time stamp on the story to see when it was last updated.
A man is expected to appear in bond court later today, in connection to a string of break-ins of businesses on the North Side.
38-year-old Devalia Brown, of the 9300 block of South Jeffery, was charged with four counts of burglary.
Police said officers first responded to an alarm that had gone off in a Sprint store located in a shopping center  in the 2000 block of Clybourn Avenue early Saturday morning.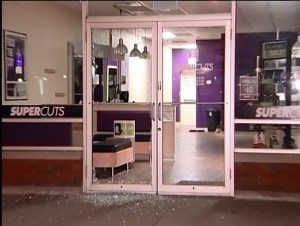 Officers found Sprint, Palm Beach Tan, and Supercuts had all been broken into, along with Dirk's Fish & Gourmet.
"My front window was smashed in, apparently there was a little string of break-ins down the street," Dirk Fucik said, Owner of Dirk's Fish & Gourmet. "Here, they caught the guy and found my laptop in his car with my name on it."
Brown was later arrested, and the items taken from the stores were returned.