This is an archived article and the information in the article may be outdated. Please look at the time stamp on the story to see when it was last updated.
CHICAGO — A 19-year-old has been charged with murder in the death of 11-year-old Takiya Holmes.
According to police and prosecutors, Jones was walking down the street Saturday night when he saw three gang rivals selling pot in Black Disciples territory and started shooting from across King Drive, the Chicago Tribune reports.
He missed his target and a bullet hit Takiya in the head while she was sitting in her mother's parked car at 65th and King Drive. Her younger brother, mother and aunt were also in the van — but were not hurt.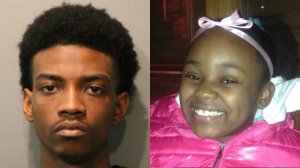 Takiya never regained consciousness after the shooting, and was taken off life support Tuesday morning at Comer Children's Hospital.
Utterly devastated, the little girl's uncle, community activist Andrew Holmes, worked with community members and fellow activist Gator Bradley of United in Peace, Inc. to help locate Jones, who turned himself in to police.
Police said Jones has an extensive juvenile criminal record, and he was denied bond Wednesday.
Detectives say a videotape of the tragic shooting will serve as the first crucial piece of evidence in the acse.
Takiya is one of three young children who have been shot and killed in Chicago over the last 5 days.