This is an archived article and the information in the article may be outdated. Please look at the time stamp on the story to see when it was last updated.
By Jethro Mullen and Mitra Mobasherat, CNN
The youngest son of missing Malaysia Airlines Flight 370 pilot Zaharie Ahmad Shah has broken his family's silence on the plane's disappearance, rejecting speculation that the veteran aviator was somehow responsible.
"I've read everything online. But I've ignored all the speculation. I know my father better," Ahmad Seth Zaharie, 26, said in an interview published Thursday by the New Straits Times, an English-language Malaysian newspaper.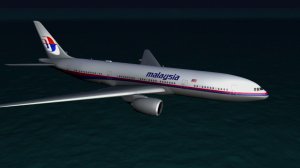 The interview comes as Thai officials report yet another satellite image depicting scores of intriguing objects floating in the southern Indian Ocean. The objects could be from the missing plane or, as authorities often warn, could simply be routine ocean garbage.
But efforts to confirm the finds are on hold as rough weather limited the search Thursday.
Poor weather forced surveillance planes to leave the search area, but ships plowing through the rough seas planned to remain on station, according to the Australian Maritime Safety Authority.
'I understand him'
Flight 370 vanished March 8 with 239 people aboard. Investigators believe the Beijing-bound airliner eventually flew south for hours before going down into a remote patch of southern Indian Ocean.
The idea that Zaharie or co-pilot Fariq Abdul Hamid were responsible for the plane's baffling disappearance is one of many theories investigators continue to pursue.
One line of speculation suggests Zaharie might have hijacked the plane as a political act. He has been identified as a supporter of a high-profile Malaysian opposition figure.
Ahmad rejected such theories.
"We may not be as close as he travels so much. But I understand him," Ahmad said of his father in the interview, which was conducted Tuesday.
Comments from government officials on the investigation so far support the Ahmed's view.
A senior Malaysian government official on Wednesday told CNN law enforcement analyst Tom Fuentes that authorities have found nothing in 19 days of investigating the two pilots that leads them to any motive, be it political, suicidal or extremist.
And an ongoing FBI review of the two pilots' hard drives, including one in a flight simulator Zaharie had built at his home, has not turned up a "smoking gun," a U.S. official with knowledge of the investigation told CNN.
"They have accessed the data," the official said. "There is nothing that's jumping out and grabbing us right now."
And investigators haven't found anything suspicious with any of the other crew members or passengers, leaving them struggling to find an explanation.
"I don't think there is a prevailing theory," one U.S. official told CNN. "There are counterarguments to every theory right now."
The confusion has left many family members of missing passengers and crew increasingly frustrated. Some have accused Malaysian authorities of failing to keep them properly informed. Others have accused officials of lying or covering up facts.
New satellite images
Thailand's Geo-Informatics and Space Technology Development Agency released satellite photographs on Thursday showing about 300 objects floating in the southern Indian Ocean.
The objects, photographed Monday, are between 6 feet to 50 feet (2 meters to 15 meters) in size, too small for the satellite that captured the images to resolve distinct shapes, according to Thai officials.
When photographed, they were about 125 miles (201 kilometers) away from the spot where a French satellite captured a floating group of objects on Sunday.
Searchers have yet to find any of the objects shown in satellite images, going back to last week when Australian authorities revealed their analysis of commercial satellite images showed a promising group of objects some 1,500 miles off the country's west coast.
Air search halted
Australian officials recalled surveillance airplanes before noon Thursday amid worsening weather. Six ships in the search zone remained, however, the Australian maritime authority said.
The search teams that have been out over the remote area of ocean Thursday have been "beaten up," said Lt. Comm. Adam Schantz of the U.S. Navy.
The visibility is almost zero, with clouds reaching down to the surface of the water, as well as severe turbulence and icing, he said.
Early Thursday afternoon, more than 60% of the search area was experiencing a mixture of low visibility, strong thunderstorms and powerful winds, said CNN International meteorologist Pedram Javaheri.
Capt. Allison Norris, commander of the Australian Navy ship HMAS Success — which is helping look for debris — said conditions are cold and uncomfortable for searchers.
"We rotate the lookouts through every hour and make sure that they are appropriately dressed to combat the very cold conditions down here," she said.
"The type of wreckage or object that we're looking for is so close to the water line that now radars would not be able to pick it up," she told CNN's Anderson Cooper. "So we are very reliant on lookouts who use binoculars and night vision glasses to scan the horizon and scan the area around the ship while we conduct our search pattern."
Thursday's delay is the second time this week that operations have been hampered by harsh conditions in the isolated patch of ocean. Search missions were called Tuesday because of stormy weather.
The forecast from Friday morning through Saturday shows much improved conditions in the search zone, CNN's Javaheri said.
"Scattered clouds should be expected," he said. "But the winds and seas will both calm considerably, giving a rare a stretch of generally favorable conditions for this region during this time of year."
CNN's Mitra Mobasherat reported from Kuala Lumpur and Jethro Mullen reported and wrote from Hong Kong. CNN's Elizabeth Joseph, David Molko, Kyung Lah, Pamela Brown and Neda Farshbaf contributed to this report.
TM & © 2013 Cable News Network, Inc., a Time Warner Company. All rights reserved.