This is an archived article and the information in the article may be outdated. Please look at the time stamp on the story to see when it was last updated.
The Golden Apple is a prestigious award that annually recognizes excellence in teaching.
This year, Greg Regalado, an art teacher at Maine West High School is one of 10 high school teachers selected for the honor.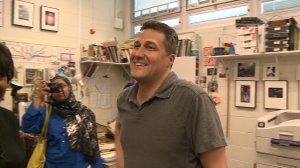 So focused on his students that it took him awhile to react to the parade of visitors including this reporter filing into his classroom Wednesday morning to give him the good news.
Regalado's colleagues and students along with his mother and his wife and children all showered him with hugs and congratulations.
Each Golden apple recipient receives a tuition-free spring quarter sabbatical to study at Northwestern University and $3,000 cash award.