This is an archived article and the information in the article may be outdated. Please look at the time stamp on the story to see when it was last updated.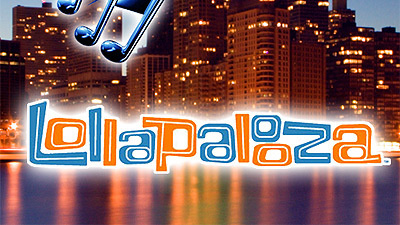 Lollapalooza, America's largest music festival, attracts 100,000 people daily to the three-day event, now celebrating its 10th year in Chicago.
The sold-out music event kicks off Friday, August 1 and goes through Sunday, August 3, 2014, in Grant Park.
Festival hours are from 11:00 a.m. to 10:00 p.m.
OFFICIAL LINEUP
Eminem, Kings of Leon and Artic Monkey will be performing.   Outkast and Calvin Harris  are also among the main stage headliners.
It's Outkast's first Midwest appearance in 12-years.
Calvin Harris and the other headliners are all also Lollapalooza alums.
Also among the 130 artists who will perform this year include Grammy winning, "Royals" singer, Lorde,  Nas, The Avett Brothers, Foster the People, Chicago's very own Chance The Rapper and dance music headliner, Zedd, among many others.
 STREET CLOSURES
The Office of Emergency Management and Communications (OEMC) is reminding the public of the street closures and traffic impacts in the Grant Park area.
Residents, pedestrians and motorists can expect lane closures, including the south curb lane of Monroe from Columbus to Lake Shore Drive daily from 9:00 a.m. to 4:00 p.m. through August 6.
Wednesday, July 30th through August 4, Columbus is closed to traffic from Monroe to Roosevelt.
Congress Parkway (including the Congress Circle) is closed from Michigan to Columbus.
Additional lane closures will occur on Friday, August 1 through August 3, on Monroe from Michigan to Columbus for ADA drop-off and on Lake Shore Drive from Monroe to Balbo.
On Tuesday, August 5 and Wednesday, August 6, the west curb lane on Columbus is closed from Balbo to 9th Street from 7:00 a.m. to 4:00 p.m.
In addition, Congress Parkway (including the Congress Circle) is closed from Michigan to Columbus.
Motorists are urged to be aware of the closures, as well as the increased pedestrian activity during Lollapalooza, and to allow extra travel time or seek alternate routes around the area.  As always, public transportation is strongly encouraged, according to the OEMC.
Most of the streets will reopen after the event on Monday, August 4.
WEATHER
Temperatures in the low 80s are expected this weekend with a chance of rain in the afternoon, possible thunderstorms.  Sunday is expected to be dry and sunny.
MORE
Stay with WGN for full Lollapalooza coverage:  wgntv.com/lollapalooza