This is an archived article and the information in the article may be outdated. Please look at the time stamp on the story to see when it was last updated.
A Logan Square shop owner and his family members fought for their lives last night during an armed robbery which was caught on tape.
62-year-old  Louis Quizhpe  was shot at nine times by a man trying to rob him.  He was hit once in the right inner thigh, the bullet barely missing an artery.
Two African American men came into Louis' souvenir shop in  the 2200 block of N Western Ave looking for cash.  One of the men pulled a gun on his Louis's nephew while the other walked behind the counter to get to the register.
The gun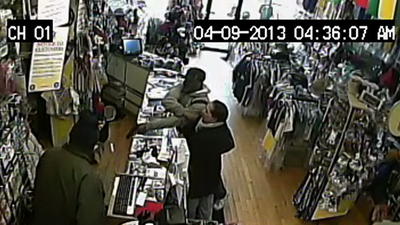 man fired at Louis but shot his accomplice accidentally in the upper body.
Louis grabbed a bat and started swinging as the gunman continued to fire.
Louis hit the gun wielding robber several times in the upper body and the head. His brother-in-law threw a stool and then a fire extinguisher at the suspects.
The men are reportedly in their 40's, one about 5'10" with a gray goatee.  The other is 6'1 or 6'2 and walked with a limp.
No one is in custody at this time.