This is an archived article and the information in the article may be outdated. Please look at the time stamp on the story to see when it was last updated.
CHICAGO — The Chicago police officer charged with murdering 17-year-old Laquan McDonald took the stand Tuesday to testify in his own defense.
Jason Van Dyke said he repeatedly shouted "Drop the knife! Drop the knife!" before opening fire on McDonald on Oct. 20, 2014, shooting the teen 16 times.
Van Dyke said McDonald advanced at the officer before raising a knife: "He had no expression. His eyes were just bugging out of his head. He's huge — wide eyes … just staring at me."
Van Dyke's testimony contradicts eyewitness accounts that say McDonald was moving away from police when Van Dyke opened fire. Dashcam video shows McDonald waving a knife from side to side, but never lifting it above waist level.
Van Dyke, 40, is charged with first-degree murder, official misconduct and aggravated battery. Dashcam video, which was released 13 months later via court order, sparked massive protests.
LIVE UPDATES FROM THE COURTROOM:
3:10 p.m. Testimony concludes for the day. Court resumes Wednesday
Defense attorneys are expected to rest their case Wednesday morning at the Leighton Criminal Courthouse, 2650 S. California Ave. Prosecutors may call rebuttal witnesses.
2:40 p.m. McDonald's knife and proximity made him an 'imminent threat,' expert says
In a dramatic moment Tuesday, a use-of-force expert from California demonstrated a point by lunging at defense attorney Dan Herbert with a toy knife, shouting, "Stab! Stab! Stab! Stab!"
Within minutes of taking the stand Tuesday, Barry Brodd said, "I feel that Officer Van Dyke's shooting of Laquan McDonald was justified."
Brodd testified that McDonald posed an "imminent threat" to the officer because McDonald was armed and roughly 13 feet away from Van Dyke. Using a yellow tape measure, Herbert measured out 13 feet — and called Brodd down from the stand.
As the men stood 13 feet apart, Herbert asked Brodd how McDonald could be a threat at this distance. "I'll show you," Brodd said before lunging at the attorney. He closed the distance in two seconds.
Brodd testified he was paid $12,000 by the defense for his services. He will be paid an additional $350 for each hour of testimony.
1:50 p.m. Cross-examination of Jason Van Dyke begins
Prosecutor Jody Gleason during cross-examination played both dashcam footage and a 3D animation of the McDonald shooting to poke holes in Van Dyke's testimony.
The officer said neither video accurately captured his perspective on the scene. The 3D animation, which places the viewer behind Van Dyke while the shooting occurs, "is not my perspective because it's showing the back of my head and above me," Van Dyke said. "So it's not my perspective, Miss."
When questioned by Gleason, Van Dyke often said he couldn't recall specific details: "I don't remember immediately what happened after the shooting. I was still in shock."
Van Dyke at one point said he continued to shoot once McDonald was on the ground because the teen still had a knife. "I shot at that knife. I wanted him to get rid of that knife."
"You're not trained as a police officer to shoot at somebody's knife, are you?" Gleason asked, noting that officers are typically trained to shoot center mass.
"My focus was just on that knife," Van Dyke said. "I wanted him to get rid of that knife."
Referencing earlier testimony from psychologist Laurence Miller, Gleason asked Van Dyke why he — while en route to the McDonald shooting on Oct. 20, 2014 — looked to partner Joseph Walsh and said, "Oh, my God. We're going to have to shoot the guy."
"I thought the officers were under attack," Van Dyke said. "… And the whole thing was shocking to me."
On re-direct with defense attorney Randy Rueckert, Van Dyke said of McDonald: "He could've thrown that knife away and ended it all right then and there."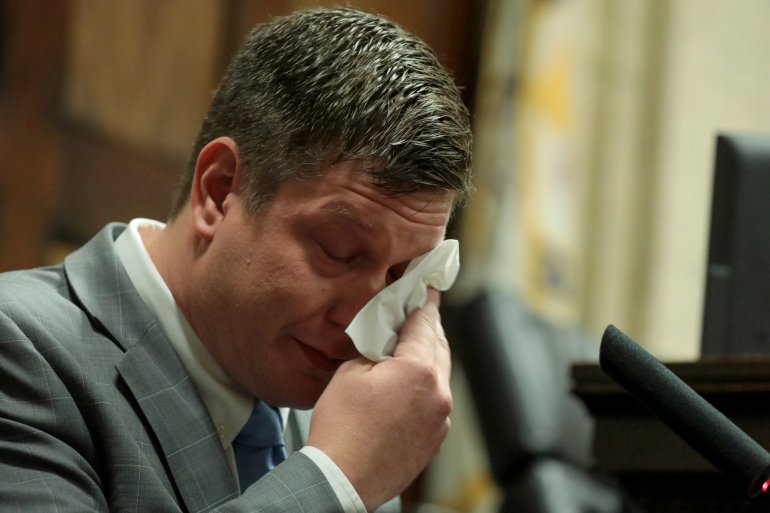 1:10 p.m. Jason Van Dyke takes the stand
Van Dyke occasionally fought tears Tuesday as he took the stand to testify about Oct. 20, 2014 — the night he killed McDonald.
Van Dyke joined the Chicago Police Department in June 2001 and has worked in some of Chicago's toughest neighborhoods. He said he "unfortunately" had to draw his gun on multiple occasions — but never fired the weapon before the McDonald shooting. "And I'm very proud of that."
Earlier in the day, Van Dyke finished some household chores and worked a 4-hour shift at a Cicero Walmart, where he was a part-time security guard.
Van Dyke reported for CPD duty by 9 p.m. and was getting coffee at a 7-Eleven with partner Joseph Walsh when a call for backup came over the police radio shortly before 10 p.m.
When the duo arrived on the scene, Van Dyke testified, they spotted Officer Joseph McElligott with his gun drawn, following McDonald.
"I saw a male black in front of him," Van Dyke said, "wearing a black hoodie and blue jeans, running. And in his hand, I saw a knife."
Van Dyke said he at one point falsely thought McDonald dropped the knife, and at another point was hoping to use his own squad car door to knock down the teen.
As soon as Van Dyke stepped out of his police SUV, he said, McDonald was "advancing at me."
"He had no expression," Van Dyke said. "His eyes were just bugging out of his head. He's huge — wide eyes … just staring at me."
Van Dyke said he repeatedly shouted, "Drop the knife! Drop the knife!" — but McDonald never stopped. "We never lost eye contact. His eyes were bugging out, his face was just expressionless."
At that point, Van Dyke testified, McDonald turned toward the officer and waved the knife toward Van Dyke's shoulder. While recounting the moment Tuesday, the officer began to cry on the stand. "I shot him."
Van Dyke testified McDonald never dropped the knife.
"Once I recognized he was on the ground," Van Dyke said, "I stopped shooting."
Van Dyke testified he saw McDonald start to push up from the ground with his left hand: "I wanted him to stay on the ground because it was going to be an easier position for us to take him into custody."
Once his gun was empty, Van Dyke said, he reloaded the weapon as he was trained. Walsh then looked at Van Dyke, the officer testified, and said, "Jason, I've got this."
Van Dyke said he has a bachelor's degree in business, and is married with a wife and two children, ages 12 and 17.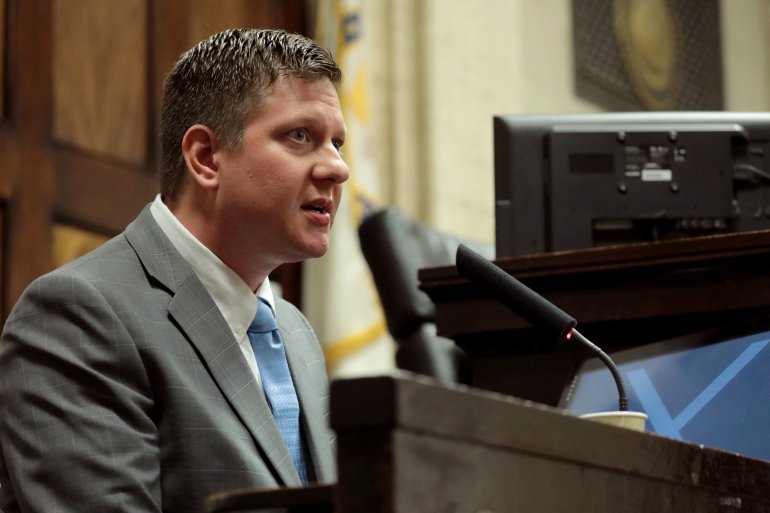 1 p.m. Bail set at $1,000 for journalist held in contempt
Judge Vincent Gaughan set bail at $1,000 for Zachary Siegel, the journalist held in direct contempt for recording testimony. Siegel needed to pay $100, or 10 percent, to go free. Fellow reporters pooled cash, and Siegel was eventually released from custody about 3:45 p.m. Tuesday.
His next court date is Oct. 31.
12:30 p.m. CTA card recovered on McDonald's body
Chicago police Detective William Johnson, who has been on the force 21 years, testified about evidence recovered on McDonald's body at Mount Sinai Hospital.
A CTA card that belonged to a disabled veteran, a receipt and a state ID were among items collected. Defense attorneys brought up the CTA card in opening statements, arguing that McDonald was on a wild rampage before he was killed.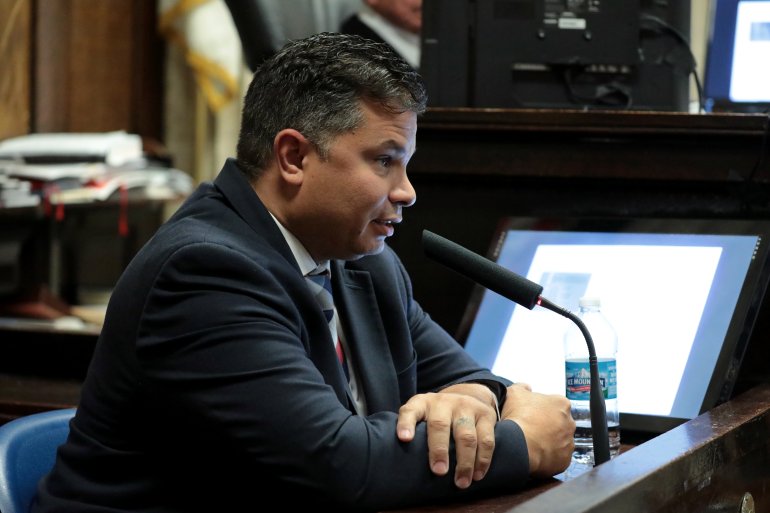 12:15 p.m. 'Oh, my God. We're going to have to shoot the guy'
Psychologist Laurence Miller during cross-examination Tuesday said he interviewed Van Dyke in 2016 via Skype with lead defense counsel Dan Herbert present. It was "not ideal, but acceptable."
During that interview, Miller said, it was revealed by Van Dyke that he looked to his partner, Joseph Walsh, the night of the McDonald shooting and asked, "Why don't they shoot him, if he's attacking them?"
Prosecutor Joseph Cullen asked Miller whether Van Dyke while en route to the scene Oct. 20, 2014, told his partner, "Oh, my God. We're going to have to shoot the guy."
"That's what he told me, yes," Miller said.
In that same 2016 interview, Miller testified, Van Dyke told the psychologist McDonald gave him a "dead stare" and it was like "looking into Laquan McDonald's soul."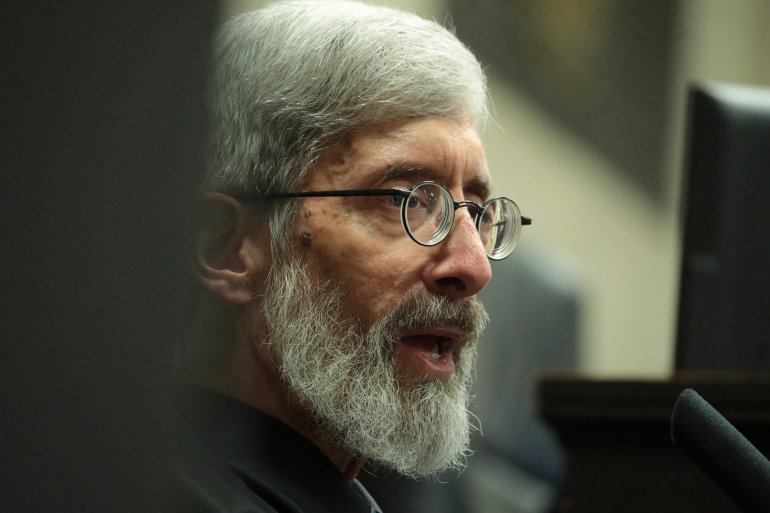 11:35 a.m. Journalist held in contempt for recording testimony
Cook County Judge Vincent Gaughan abruptly stopped proceedings about 11:35 a.m. Tuesday and sent jurors out of the room. He called to the stand a man later identified as Zachary Siegel, a freelance journalist working for Undark Magazine.
Gaughan accused Siegel of recording testimony, which is not allowed inside any courtroom at the Leighton Criminal Court Building, 2650 S. California Ave.
"Trying to game the system, trying to get ahead … get ahead of justice, isn't tolerable in this courtroom," Gaughan said.
Siegel was removed from the courtroom by deputies.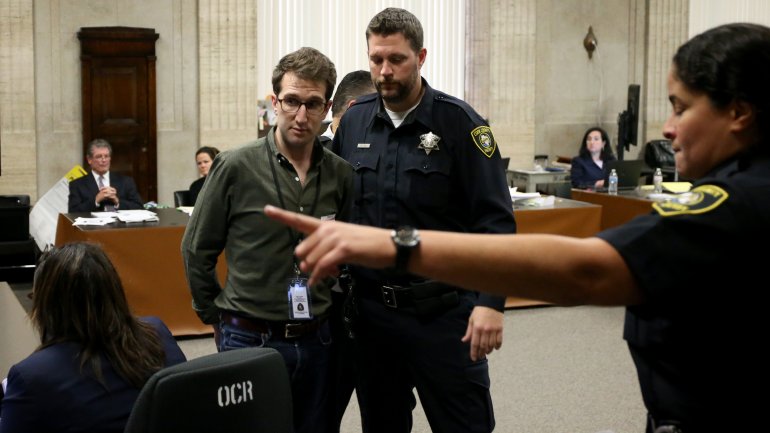 10:45 a.m. Firing a gun is 'a fairly profound event,' psychologist says
Laurence Miller, a psychologist from Florida, used a PowerPoint presentation titled "Neuropsychology of Deadly Force Encounters" to explain how human brains react to emergency situations.
"If we're faced with danger," Miller said, "our brains are telling us to do whatever we can to get away from danger."
For first responders, though, the job is to run toward it: "Even though their brains are telling them, 'Run. Get away. Save yourself,' their job is to do the opposite."
Miller testified that memories may not form fully, correctly or at all in emergency situations. The brain is too focused on what's at hand for survival reasons.
"The memory system in an emergency situation essentially becomes hijacked," Miller said.
He soon narrowed in on police shootings, noting that "distortions in time perception" are common for officers. Some may perceive time as moving in slow motion, while others think time is moving far more quickly than it is. A few minutes can feel like a few seconds, or vice versa.
"Firing a weapon … is a fairly profound event," Miller said. "Police officers, or even soldiers for that matter, they don't enjoy taking a human life."
Common symptoms for police after officer-involved shootings include impaired sleep, an "adrenaline dump" and constant second-guessing. That last one could be, Miller said, officers trying to remember exactly what happened since memories didn't form correctly.
"Many police officers will obsessively second-guess themselves," Miller said.
On the night of Oct. 20, 2014, Miller said, "Officer Van Dyke responded to what he perceived was a deadly threat and responded in a way that, based on his training, was designed to neutralize that threat as he understood it."
Miller testified that "a reasonable officer faced with the same perceptual reality" as Van Dyke also would have shot McDonald.