This is an archived article and the information in the article may be outdated. Please look at the time stamp on the story to see when it was last updated.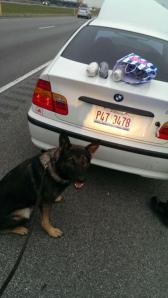 One Lake County police pooch is getting a well-deserved belly-rub Thursday.
Loki the police dog and his two human partners were patrolling the I-65 south of Lowell Wendesday when they pulled over a 2002 BMW for speeding.
Loki approached the car and alerted the officers to the engine area where they found three-and-a-half pounds of crystal meth.
Alexander Molina and Alejandro Murilla, both of South Chicago, were arrested and charged with dealing a controlled substance.