This is an archived article and the information in the article may be outdated. Please look at the time stamp on the story to see when it was last updated.
One of the jurors who acquitted George Zimmerman said she had "no doubt" he feared for his life in the final moments of his struggle with Trayvon Martin, and that was the definitive factor in the verdict.
The woman, who was identified just as Juror B37, spoke exclusively to CNN's "Anderson Cooper 360" on Monday night. She is the first juror to speak publicly about the case.
She said she believed Zimmerman's "heart was in the right place" the night he killed Martin, but that he didn't use "good judgment" in confronting the Florida teen.
"I think George Zimmerman is a man whose heart was in the right place, but just got displaced by the vandalism in the neighborhoods and wanting to catch these people so badly that he went above and beyond what he really should have done. But I think his heart was in the right place. It just went terribly wrong," she said.
If anything, Zimmerman was guilty of not using "good judgment," the juror said.
"When he was in the car, and he had called 911, he shouldn't have gotten out of that car," she said.
She also said she believes Martin threw the first punch in their confrontation.
"I think the roles changed. I think George got in a little bit too deep, which he shouldn't have been there. But Trayvon decided that he wasn't going to let him scare him … and I think Trayvon got mad and attacked him," she said.
Zimmerman felt his life was in danger before shooting Martin, and it was his voice that was heard screaming for help in 911 calls, the juror said she believes.
"He had a right to defend himself," the juror said about Zimmerman. "If he felt threatened that his life was going to be taken away from him, or he was going to have bodily harm, he had a right."
An initial vote was split. Three of the jurors first voted Zimmerman was guilty, while three voted he was not guilty, she said. Juror B37 was among those who believed he was not guilty from the start.
"There was a couple of them in there that wanted to find him guilty of something and after hours and hours and hours of deliberating over the law, and reading it over and over and over again, we decided there's just no way, other place to go," she said.
Jurors were not identified by name during the trial.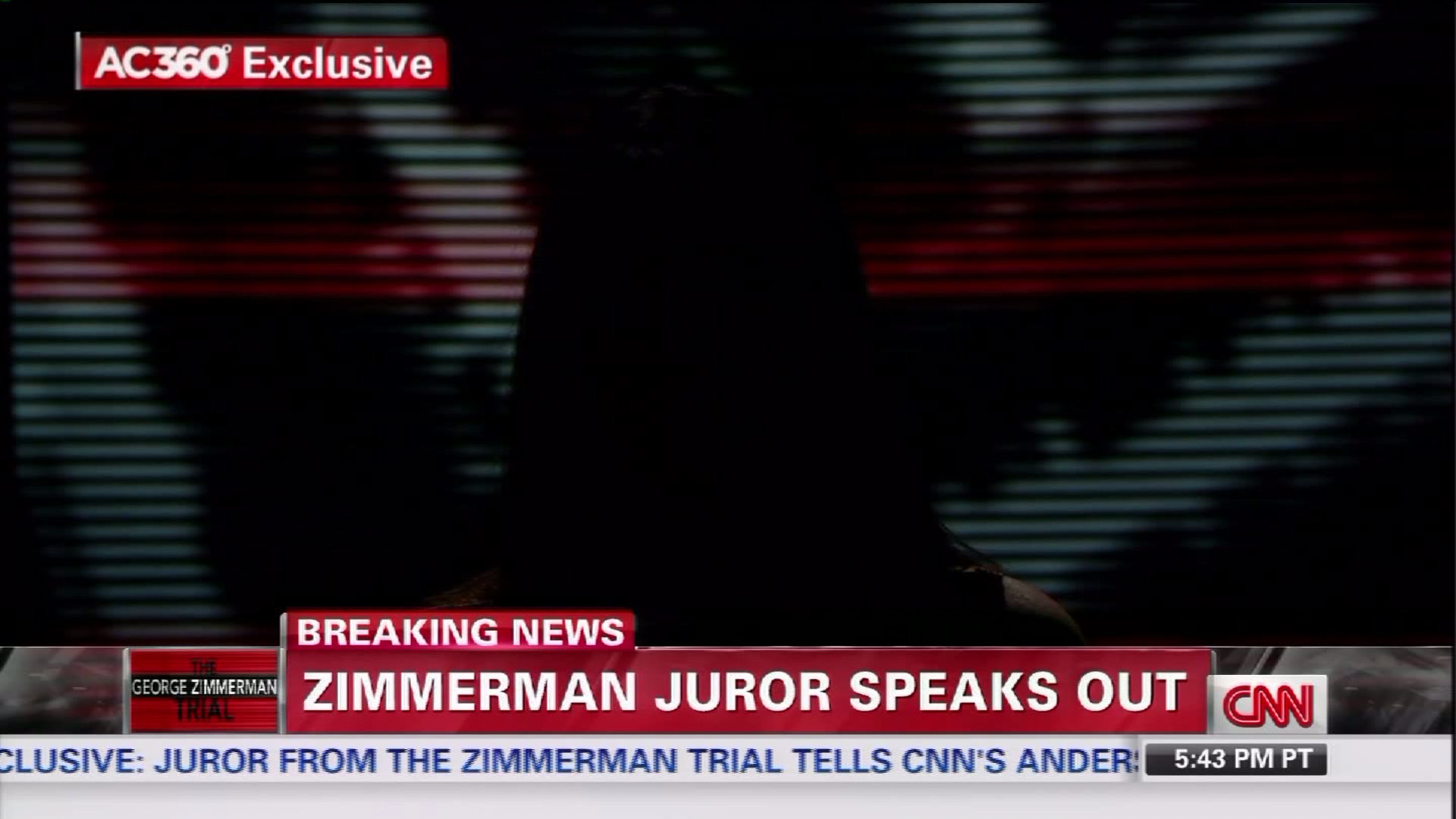 However, according to HLN, CNN's sister network, juror B37 has been married 20 years, has two adult children and once had a concealed weapons permit. She has lived in Seminole County, Florida, for 18 years and volunteers for animal rescue groups, according to HLN.
The juror is planning to write a book about her experience with the case, literary agent Sharlene Martin said before her interview aired.
"My hope is that people will read Juror B37's book, written with her attorney husband, and understand the commitment it takes to serve and be sequestered on a jury in a highly publicized murder trial and how important, despite one's personal viewpoints, it is to follow the letter of the law," the president of Martin Literary Agency wrote in a statement.
"It could open a whole new dialogue about laws that may need to be revised and revamped to suit a 21st Century way of life," Martin said.
Martin has handled a number of other controversial high-profile books, including "If I Did It," the book written by O.J. Simpson but acquired by the family of murder victim Ronald Goldman. That book details how the killings of Goldman and Simpson's former wife Nicole Simpson might have been committed.
TM & © 2013 Cable News Network, Inc., a Time Warner Company. All rights reserved.