This is an archived article and the information in the article may be outdated. Please look at the time stamp on the story to see when it was last updated.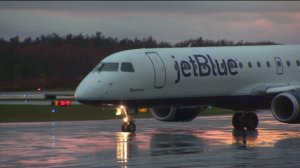 JetBlue is apologizing to a mother after her daughter was denied use of an airplane bathroom.
A flight was on the runway, at JFK Airport, when it got delayed, last week.
That's when a three year old girl had to use the bathroom.
But when her mother tried to take her, a flight attendant ordered them back to their seats.
The girl ended up wetting herself on the seat.
Her mother says the flight attendant yelled at her again when she stood up while trying to clean up the mess.
JetBlue offered the mother a $50 voucher and $5,000 toward the charity of her choice.
It also tweeted that the crew followed FAA rules regarding airplanes on the tarmac.