This is an archived article and the information in the article may be outdated. Please look at the time stamp on the story to see when it was last updated.
CHICAGO — A former police training academy instructor testified Thursday that Jason Van Dyke was taught to shoot rapidly and to reload his weapon immediately.
Van Dyke, 40, is the first Chicago police officer in decades to be charged with murder for an on-duty incident. He shot 17-year-old Laquan McDonald 16 times on Oct. 20, 2014.
Two defense witnesses established Thursday that McDonald had taken PCP shortly before he was killed, and that at least two people had called 911 to report the teen that day.
The first, Yvette Patterson, said McDonald approached her car and loitered near her home as she tried to get into the house about 3 a.m. the day he was killed.
Nineteen hours later, truck driver Rudy Barillas called 911 to report that McDonald was potentially stealing car radios inside a locked lot near 41st Street and Pulaski Road. Van Dyke would fatally shoot the teen minutes later.
Defense testimony is expected to continue at 9 a.m. Monday at the Leighton Criminal Court Building, 2650 S. California Ave.
LIVE UPDATES FROM THE COURTROOM:
12:55 p.m. Court is done for the day. Testimony to resume Monday at 9 a.m.
12:40 p.m. Former firearms training instructor testifies
A retired Chicago Police Department firearms instructor said Jason Van Dyke was taught to shoot rapidly and reload his gun immediately after emptying a magazine.
"He was taught to shoot rapidly. He was taught to neutralize the threat," said Nicholas Pappas, who taught at the police training academy for 14 of his 29 years on the force.
Van Dyke's goal, Pappas said, was to "stop the fight. Make sure the person is incapacitated. Make sure the person cannot hurt someone."
Pappas, who worked at the academy when Van Dyke was a recruit in 2001, said knives can potentially be more dangerous than guns because knives can pierce bulletproof vests.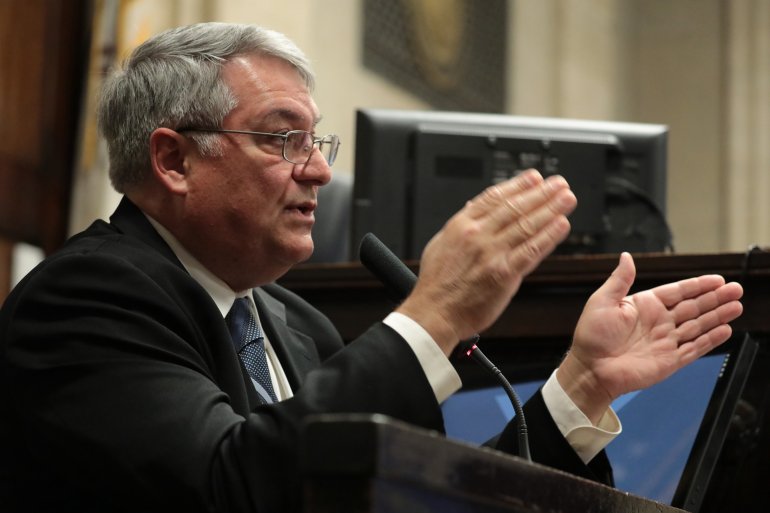 According to Pappas, a person armed with a knife can rush an officer from 21 feet in just a second and a half. Someone with a leg injury, on average, takes two seconds.
Pappas testified that someone can still be a threat once he is on the ground because, "He could get up and re-attack."
In cross-examination, prosecutor Daniel Weiler pointed out that officers are trained to seek cover and keep a distance from offenders. Most police shootings, he noted, last two to three seconds.
11:45 a.m. Court breaks for lunch until 12:20 p.m.
11:20 a.m. Drug expert testifies: 'He was whacked on PCP'
Dr. James Thomas O'Donnell said the level of PCP in McDonald's system suggested the teen had taken the drug the day of the shooting. O' Donnell is a pharmacologist, pharmacist and nutritionist.
According to the doctor, PCP "gives the user an almost superhuman strength, the feeling of omnipotence, the feeling of being able to do anything." It can also cause "bizarre behavior frequently described as psychotic behavior."
While autopsy results revealed there was PCP in McDonald's system when he was killed, there was no trace of valproic acid or the antipsychotic Risperdal, two medications McDonald previously had been prescribed.
O'Donnell testified that without those medications to provide "protection," the effects of PCP could've been more severe in McDonald. Side effects could've included the inability to form words. A truck driver previously testified that McDonald was "tongue-tied" before the fatal shooting and made sounds like "a serpent."
According to O'Donnell, McDonald's behavior on Oct. 20, 2014, showed "clinical evidence" of rage, violence and aggression. To use street lingo, the doctor said, "He was whacked on PCP."
During cross-examination, prosecutor Joseph Cullen pointed out there was no way for Van Dyke to know about McDonald's PCP use that day. The officer only knew McDonald slashed a squad tire and disobeyed police.
10:30 a.m. Woman called 911 on McDonald 19 hours before he was killed
Yvette Patterson was the first witness to testify Thursday. She said she called 911 to report McDonald near her home about 3 a.m. Oct. 20, 2014.
Patterson was coming home from a party when she spotted the teen outside on the stairs. A light sensor had been tripped. She said she didn't recognize McDonald, who told her he lived upstairs. He did not.
Patterson said McDonald approached her car and asked to borrow it. "He's like, 'Can I see your car? … I just wanna use it. I'mma bring it right back.'"
Patterson said she and McDonald joked back and forth for a bit. "I don't even let my sons use my car," she quipped. "… He seemed like a nice young guy."
Patterson ultimately called 911, however, because she did not know McDonald and wanted to get home safely.
"I want to get out of my car safe," she said, "and I want to walk into my house."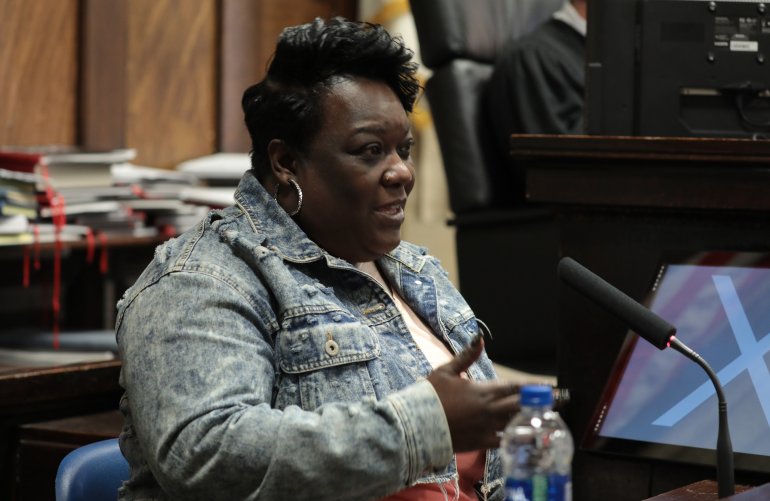 10 a.m. Judge: TASC records must be turned over
Before testimony began Thursday, Cook County Judge Vincent Gaughan ordered TASC, or Treatment Alternatives for a Safe Community, to turn over McDonald's juvenile records. TASC is a court program that deals with substance abuse and mental health issues.
Attorneys argued over whether privacy laws still stand after a person is deceased. Gaughan said the records are of public interest and important due to the serious nature of Van Dyke's charges.
"Mr. Van Dyke is charged with murder, one of the highest crimes in the state of Illinois," Gaughan said.
Ultimately, no one from TASC testified, and the records were not presented to jurors.