This is an archived article and the information in the article may be outdated. Please look at the time stamp on the story to see when it was last updated.
CHICAGO — The trial of Jason Van Dyke continued Wednesday with testimony about Laquan McDonald's final moments.
The 17-year-old still had a heartbeat when paramedics arrived on the scene at 41st Street and Pulaski Road on Oct. 20, 2014, according to court testimony. By the time he arrived at Mount Sinai Hospital, there was no pulse.
Dr. Ponni Arunkumar, Cook County's chief medical examiner, said an autopsy revealed 16 distinct gunshot wounds on McDonald's body. After testifying about blood loss, Arunkumar said each individual shot contributed to McDonald's death — and that he was alive when each bullet entered or grazed his body.
Testimony is expected to continue Thursday at the Leighton Criminal Court Building, 2650 S. California Ave.
Van Dyke, 40, is charged with first-degree murder, official misconduct and aggravated battery. McDonald had been trying to steal car radios armed with a three-inch blade when a passerby called 911 that October evening. Within seconds of arriving on the scene, Van Dyke shot McDonald 16 times.
LIVE UPDATES FROM THE COURTROOM:
4:00 p.m. Testimony ends for the day. Court to resume at 10 a.m. Thursday.
3:50 p.m. FBI video expert returns for limited testimony
Mark Messick, a video forensics expert with the FBI, testified again Wednesday afternoon. Cook County Judge Vincent Gaughan on Tuesday struck Messick's previous testimony about dashcam video since Messick is not a ballistics expert.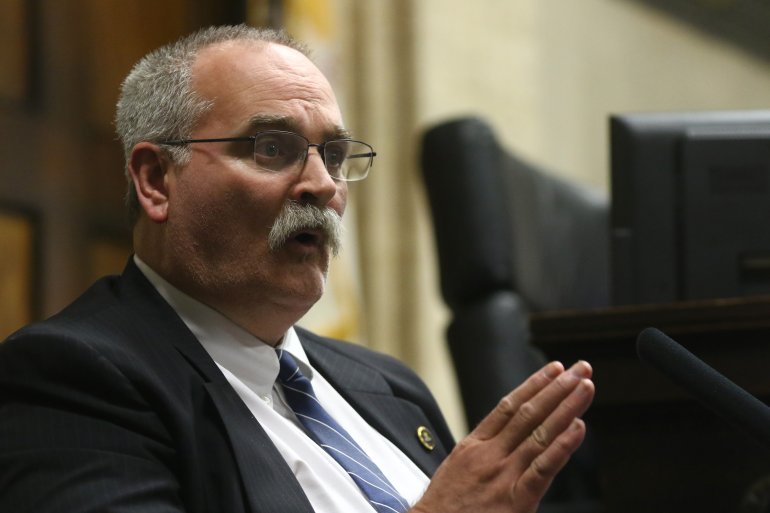 2:10 p.m. Bullet fragments in McDonald's teeth: Autopsy testimony continues
Dr. Ponni Arunkumar, Cook County's chief medical examiner, continued her testimony Wednesday afternoon. A bullet that ripped through McDonald's hand became fragmented, she said, sending two large pieces through his skin. Asphalt fragments contributed to the wound.
An autopsy revealed 16 separate and distinct gunshot wounds: one graze wound, seven penetrating wounds that left behind bullet fragments, and eight through-and-through wounds. There were 24 holes in McDonald's body.
Arunkumar said the teen had PCP in his system that could have caused hallucinations and agitation. There were bullet fragments in his mouth and teeth.
After testimony about blood loss, Arunkumar said each and every one of the 16 shots fired contributed to McDonald's death. He was alive for every wound, she testified.
Defense attorney Dan Herbert during cross-examination said a report prepared by a different medical examiner stated that only two shots were "rapidly fatal." Arunkumar maintained her position that each of the 16 shots "accelerated" McDonald's death.
You can read the full Laquan McDonald autopsy here.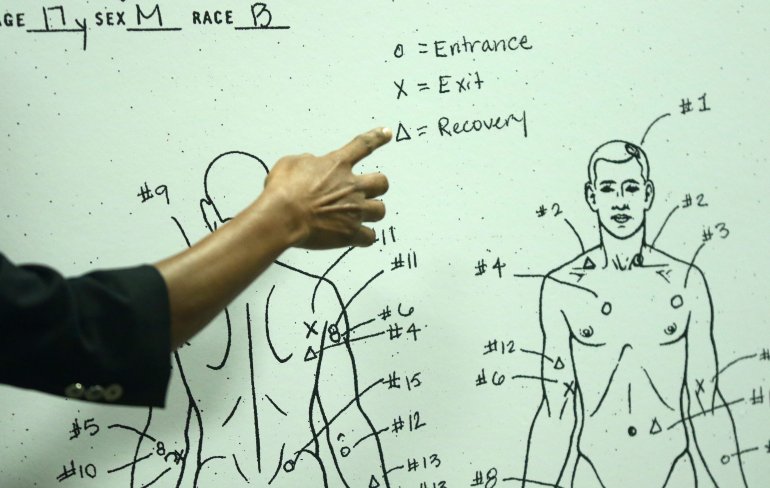 1:45 p.m. Court breaks for lunch. Testimony to resume at 2:15 p.m.
12:15 p.m. Jesse Jackson arrives at courthouse
The Rev. Jesse Jackson arrived at the courthouse around noon Wednesday. While addressing reporters in the lobby, Jackson said the McDonald case is "one of the most heinous crimes since Emmitt Till."
Jackson watched just over an hour of testimony Wednesday afternoon.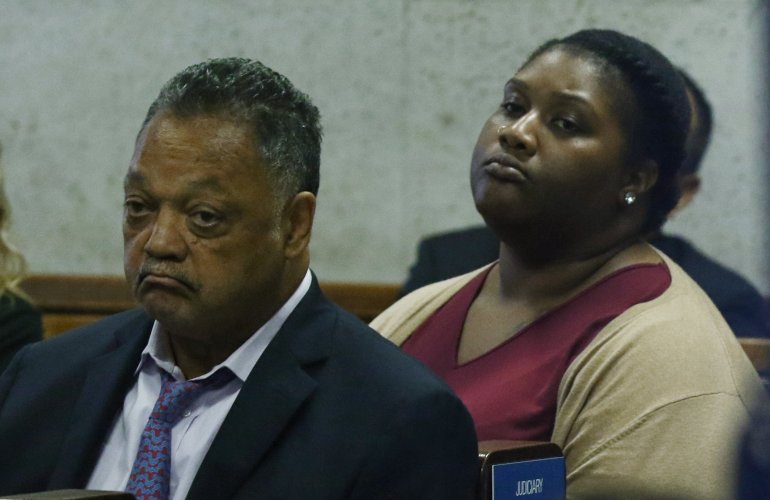 11:50 a.m. Autopsy revealed 16 distinct gunshot wounds, chief medical examiner says
Dr. Ponni Arunkumar, Cook County's chief medical examiner, said it's impossible to tell the order in which 16 bullets entered McDonald's body: "The subject is usually in constant motion. The shooter is also, so it's hard to say."
Arunkumar is a forensic pathologist and licensed physician who's been with the medical examiner's office since 2003. She did not conduct McDonald's autopsy — that was done by Dr. Denika Means, who has since moved to Texas for family reasons.
When Arunkumar first took the stand Wednesday, she walked prosecutors through staggering Cook County facts. In 2016, there were 805 gunshot homicides in the county. In 2017, there were 740. "This number is more than both New York and Los Angeles put together."
She then spoke in detail about each gunshot that hit McDonald, moving through the first eight in just under an hour. Jurors were shown autopsy photos and X-rays. One bullet grazed his head. Another traveled through his neck to become lodged in his back. Still another punctured his lung. Some broke bones.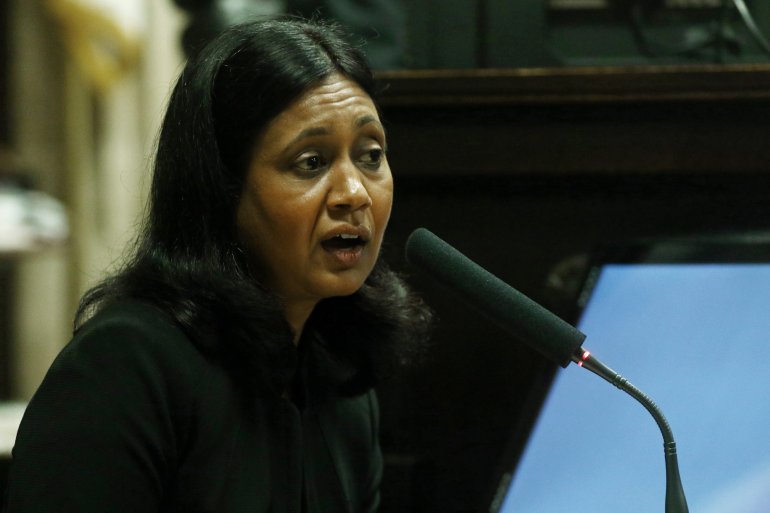 10:40 a.m. State expert says all 16 shell casings fired by same gun
Gregory Brate, an Illinois State Police forensics expert specializing in firearms, was the third state witness Wednesday. He's been a forensics examiner since 1987 and said that all 16 shell casings found at the scene of the McDonald shooting were fired by the same gun.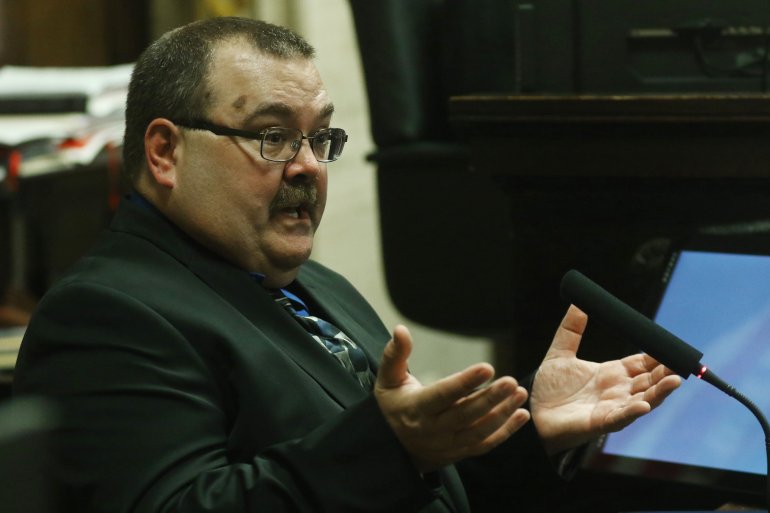 10:20 a.m. How and when Laquan McDonald died: 'He had a pulse'
Mark Smith, a paramedic who's been with the Chicago Fire Department for 20 years, was one of the first on the scene at 41st Street and Pulaski Road after McDonald was shot 16 times on Oct. 20, 2014.
"We were at the firehouse and were called for a GSW, gunshot wound," Smith testified Wednesday.
He said McDonald didn't have any apparent signs of life, but a monitor revealed a heartbeat of about 60 beats per minute.
"There was a heart rate," Smith said. "He had a pulse, and it showed on the monitor."
McDonald was loaded into an ambulance and given an IV. Smith said the teen lost his pulse in the ambulance at the scene. Smith began chest compressions; a colleague soon took over so that Smith could drive to Mount Sinai Hospital.
A nurse in the emergency room that night, Alan Gayan, was the first to testify Wednesday. He said six or seven doctors were present when McDonald came into the ER.
Bullet fragments were collected from McDonald's clothing and placed into a clean urine cup for storage. McDonald had no pulse or heartbeat by the time he arrived, Gayan said.