This is an archived article and the information in the article may be outdated. Please look at the time stamp on the story to see when it was last updated.
CHICAGO — Jurors on Wednesday heard from the man whose 911 call about Laquan McDonald set into motion the events of Oct. 20, 2014.
Truck driver Rudy Barillas first spotted the 17-year-old inside a truck in a locked lot near 41st Street and Pulaski Road shortly before 10 p.m. Barillas called 911 and confronted the teen, who lunged at him with a knife, the driver testified.
Minutes later, Chicago police Officer Jason Van Dyke shot McDonald 16 times — setting off a chain of events that included massive protests, a federal investigation, the ouster of Chicago's police superintendent and a devastating primary loss for the county's top prosecutor.
Barillas said McDonald seemed "tongue-tied" and made sounds like a serpent, but fled the area after Barillas threw his phone and some gravel at the teen.
An officer on the scene with Van Dyke testified Wednesday that McDonald seemed "deranged," like he was "in a twilight," as he walked past officers. She drew her gun, but never shot.
Jurors also Wednesday heard from an attorney who teaches officers about deadly force, a surgeon who held McDonald's heart in his hands and two juvenile corrections employees.
The defense will continue presenting witnesses Thursday at the Leighton Criminal Court Building, 2650 S. California Ave.
LIVE UPDATES FROM THE COURTROOM:
1:30 p.m. Testimony is over for the day. Court resumes at 9 a.m. Thursday
1:25 p.m. 'It's a pretty catastrophic injury': Bullet hit McDonald's pulmonary artery
Surgeon Jeremy Stayton said McDonald only had a 1-percent chance of surviving the bullet that pierced his chest and hit his pulmonary artery: "It's a pretty catastrophic injury."
Stayton worked as a surgical resident at Mount Sinai Hospital the night McDonald was shot 16 times in October 2014. Stayton said he opened McDonald's chest and began massaging his heart.
"By the time I was able to see the heart," Stayton said, "it was not moving."
Stayton said McDonald was not bleeding profusely from any other gunshot wound. But the doctor could not definitively determine whether the teen would've died from those wound alone, without the bullet to his chest.
Stayton did say, "If he had been shot with that [chest] injury right in front of us, the chances of him surviving are very low."
Cook County's chief medical examiner Dr. Ponni Arunkumar last week said each of McDonald's 16 gunshot wounds caused bleeding and "accelerated" his death.
Defense pathologist Dr. Shaku Teas this week said she believed only the gunshot wound to McDonald's chest was "rapidly fatal." The others did not cause significant bleeding, she said.
1:15 p.m. When can officers use deadly force? Police academy attorney testifies
Attorney Yolanda Sayre has taught at the Chicago police training academy for 21 years. There, officers are now required to undergo 92 hours of coursework on Illinois law. When Van Dyke went through the academy in 2001, the requirement was 78.
Sayre was one of his instructors.
On Wednesday, she walked jurors through a worksheet on the use of deadly force. In testimony that was mostly dry and technical, Sayre said police are allowed to use deadly force if a suspect armed with a dangerous weapon would escape arrest otherwise. Guns, knives and baseball bats all count as deadly weapons, she said.
Officers can also use deadly force to prevent someone from getting away if that person committed a forcible felony, or when a suspect indicated he or she is a danger to human life.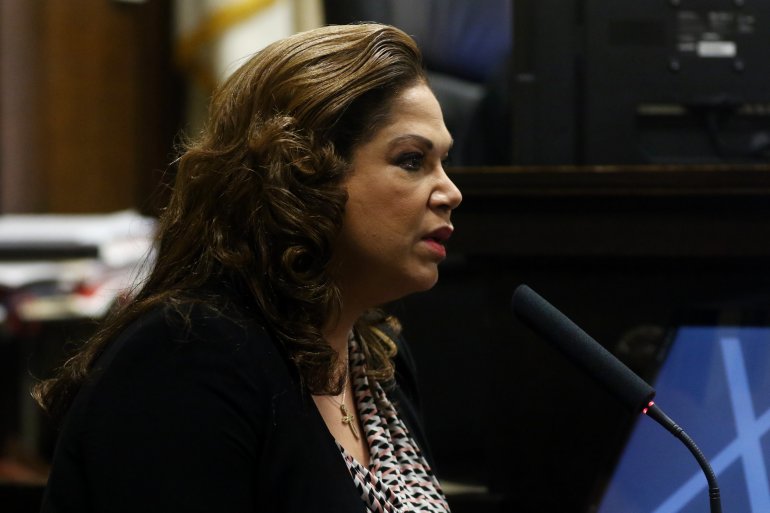 Prosecutor Daniel Weiler pointed out that officers are routinely instructed only to use deadly force when "reasonable and necessary."
Defense attorney Daniel Herbert said Illinois statutes don't require force to be a last resort.
12:10 p.m. Court breaks for lunch. Testimony to resume at 12:40 p.m.
12 p.m. McDonald threatened to 'put a slug' in a judge, detention center employee says
Jackie Alexander was an assistant team leader at the Cook County Juvenile Detention Center when she encountered McDonald in April 2014. In one incident, she said, McDonald refused to go back to his cell, threatened to beat guards and said he would "put a slug in the judge's head."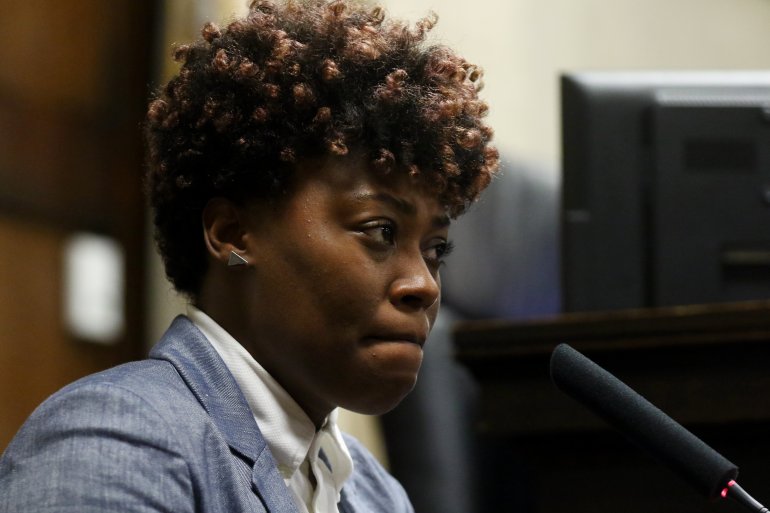 Richard Delk, who works on a rapid response team at the detention center, recalled a similar incident in which McDonald refused to go to his room and needed to be handcuffed.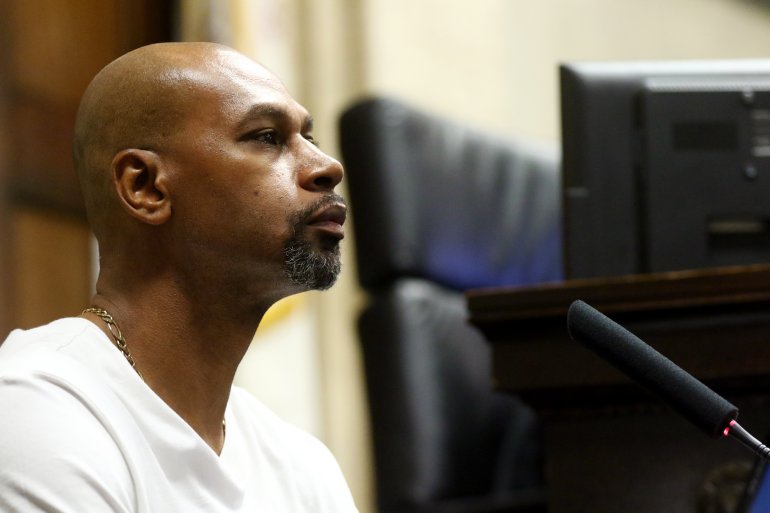 11:45 a.m. 'Knife gun' alert issued in 2012
Chicago police Sgt. William Schield briefly testified Wednesday that police were warned in 2012 about a "knife gun" — a weapon that looked like a knife but was also a gun with five or six bullets.
Schield said in his 27 years on the force, he's never seen a "knife gun" recovered. Van Dyke would have been aware of the weapon.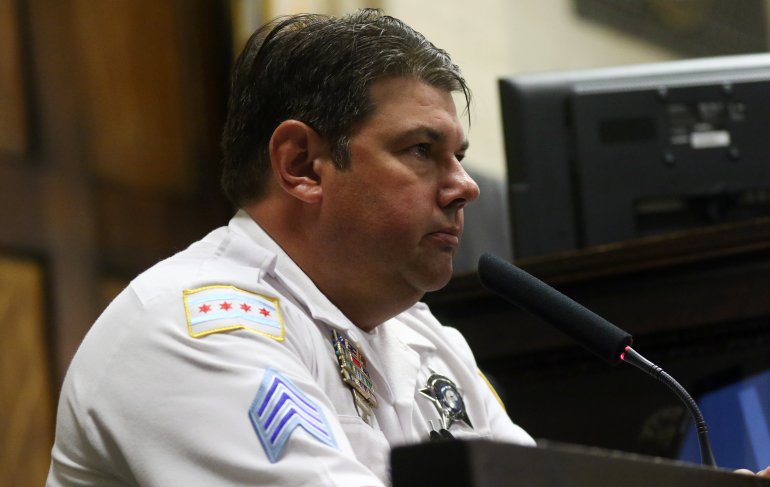 11:30 a.m. McDonald tried to stab me, says truck driver who called 911
It was Rudy Barillas' 911 call about McDonald that set into motion the events of Oct. 20, 2014. Barillas testified Wednesday that he and his wife were parking a truck in a locked lot near 41st Street and Pulaski Road when they noticed McDonald inside another truck.
Barillas said he called 911 because he suspected McDonald of stealing car radios. It was just an assumption, Barillas testified Wednesday; he never saw McDonald with a radio.
Barillas said he told the teen to leave — and that McDonald tried to attack him with a knife. Barillas said he threw his phone and some gravel at McDonald, who eventually fled before police arrived.
Barillas testified through a Spanish interpreter Wednesday, but said he addressed McDonald in English. Barillas said the teen made sounds like "a serpent": "He was tongue-tied."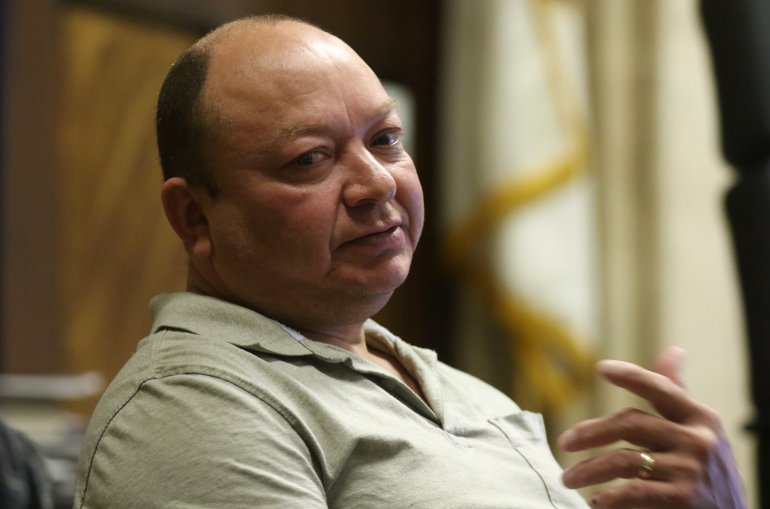 10:35 a.m. McDonald looked 'deranged' night of shooting, officer testifies
The first witness Wednesday was Leticia Velez, a Chicago police officer who was on the scene Oct. 20, 2014. It was toward the end of her shift when a call requesting a Taser came over the radio.
Velez testified she wanted to get dinner, but "it sounded like officers were in distress, so we [my partner and I] decided to go to the job."
When she arrived, McDonald was walking in the street with a "shiny object" in his hand, seemingly unfazed by the officers and squad cars around him. Velez initially believed the "shiny object" to be a gun.
"He looked deranged," Velez said. "He just was, like, in a twilight."
She told the jury her gun was drawn, but she did not shoot.
When asked how her perspective differed from the view offered by dashcam footage, she said: "It doesn't show his face. It doesn't show the look in his eyes."
Velez testified that Van Dyke continued to shoot once McDonald was on the ground. She said Joseph Walsh, Van Dyke's partner that evening, then kicked the knife out of McDonald's hand before searching the teen. That search is not seen on dashcam video.
Velez said she couldn't recall requesting an ambulance, but she did call the police union since there'd been an officer-involved shooting.
Van Dyke, 40, is charged with first-degree murder, official misconduct and aggravated battery.