This is an archived article and the information in the article may be outdated. Please look at the time stamp on the story to see when it was last updated.
CHICAGO — The man who was Jason Van Dyke's partner the night of the Laquan McDonald shooting took the stand Tuesday for nearly 90 minutes as the trial continued into its second day.
Joseph Walsh told jurors McDonald was acting erratically before he was shot on Oct. 20, 2014 — flailing his arms and waving a small knife near his chest. Walsh said he believed McDonald was a threat because he was moving toward a Burger King and Dunkin' Donuts, knife still in hand.
Dashcam video of the shooting shows McDonald holding a knife about waist level. He swings it slightly from side to side, but never raises it. Walsh said his perspective on the scene was different.
When Van Dyke began shooting, Walsh said, eventually firing 16 shots at McDonald, "I flinched and bent at the knees. I did not realize it was happening. … It startled me."
Walsh is one of three Chicago police officers currently facing felony charges for their alleged roles in covering up the McDonald shooting. He testified Tuesday under use immunity, meaning anything he said on the stand could not be used against him.
Walsh was one of nine state witnesses to testify Tuesday, bringing the total to 17.
Van Dyke, 40, is charged with first-degree murder, official misconduct and aggravated battery. His trial continues Wednesday at the Leighton Criminal Court Building, 2650 S. California Ave.
LIVE UPDATES FROM THE COURTROOM:
3:30 p.m. Testimony ends for the day. Court to resume at 10 a.m. Wednesday.
The state called its 17th witness, former Chicago police Lt. Anthony Wojcik, who was subpoenaed. Wojcik was on the stand for fewer than 10 minutes to talk about taking measurements at the scene.
He was the sixth current or former Chicago police officer to take the stand Tuesday.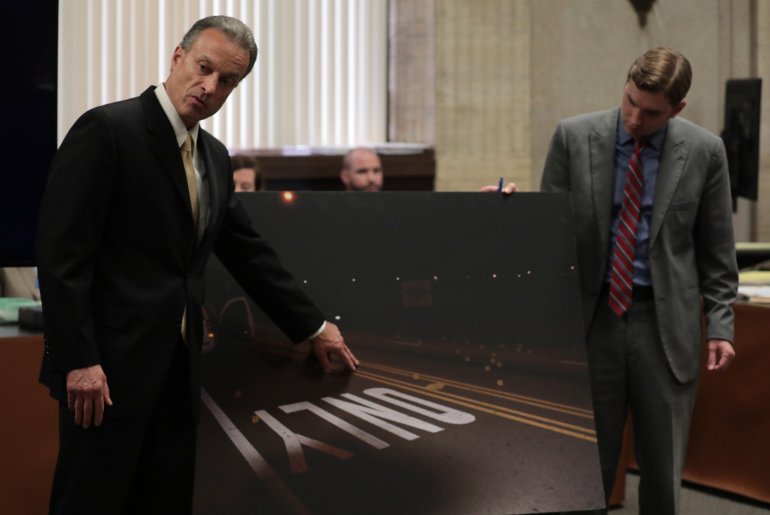 3:20 p.m. Judge tosses testimony from FBI expert
Prosecutors called to the stand Mark Messick, an FBI forensic video examiner based in Virginia. He enhanced dashcam footage of the Laquan McDonald shooting by highlighting the area around McDonald and using green arrows to point to puffs of smoke. Messick said he's seen the video a couple hundred times.
The video was played three times, twice in slow motion at only a quarter of the original speed. At this point, the jury has seen that dashcam footage about a dozen times over the past two days.
Defense attorney Dan Herbert asked Judge Vincent Gaughan to strike Messick's testimony, arguing that Messick is not a ballistics expert. Gaughan agreed: "He has no background in what the smoke means."
The judge told prosecutors, "You haven't laid the foundation that when a bullet hits a human being, smoke comes out of the human being."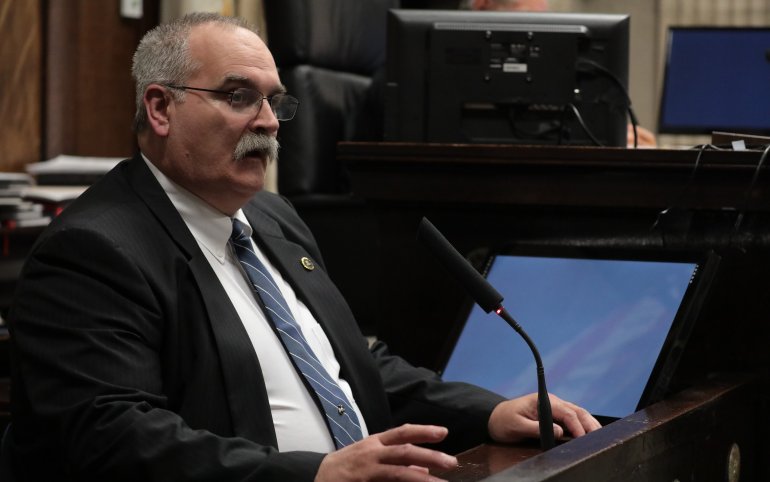 2:15 p.m. A gun, a knife and blood-stained clothes: Chicago police officers present evidence
Three more state witnesses were called after lunch — each a current or former Chicago Police Department employee.
Evidence technician Kamal Judeh collected evidence from the scene at 41st Street and Pulaski Road on Oct. 20, 2014. Jurors were shown images of shell casings, two large blood stains and a small knife with a beige handle emblazoned with the letters "WWII."
Also displayed were photographs taken at the hospital of McDonald's blood-stained clothing: a black hoodie, blue jeans, black boxers with white designs, and a black jacket with white letters.
Detective Roberto Garcia identified Van Dyke's service weapon on the stand: a silver and black Smith & Wesson 9-mm semiautomatic handgun. Garcia, who's been on the force 23 years, said he inspected the weapon after the McDonald shooting. The gun was recovered with a re-loaded magazine; it can hold 15 bullets with an extra one in the chamber.
Now-retired Chicago police Officer Victor Rivera, who was on the force for 36 years, was the state's 15th witness to testify. He retired in October 2017 and briefly spoke Tuesday about collecting "numerous bullets, fragments and copper jackets."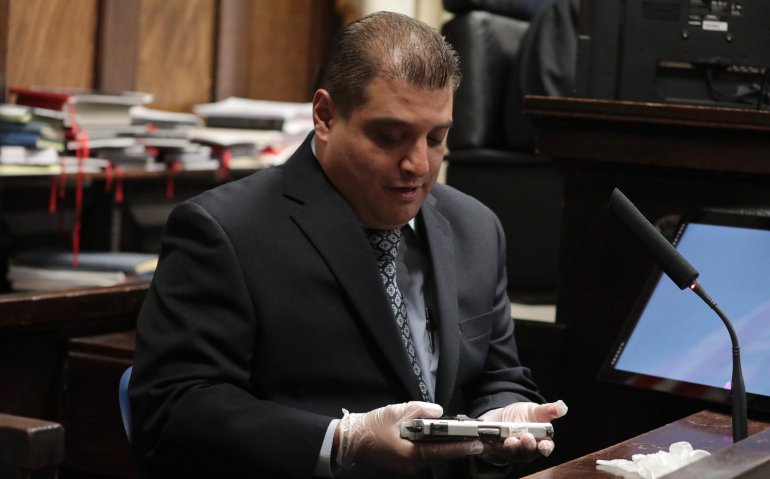 12:20 p.m. Court breaks for lunch. Testimony expected to resume at 1 p.m.
12:05 p.m. Cook County police officer renders aid: 'He was gasping for air and gurgling'
Cook County Sheriff's Police Officer Adam Murphy on Tuesday said he followed Chicago police squad cars to the scene of the shooting on Oct. 20, 2014. Murphy couldn't listen in to CPD radio, but noticed the cars flying by him: "Seeing multiple vehicles like that, I didn't know if they needed assistance."
When Murphy arrived at the scene, he said, he spotted McDonald laying on the ground. Murphy got out of his car and put on rubber gloves to give first aid. He testified he told McDonald an ambulance was on the way; he heard it in the distance.
"He [McDonald] was gasping for air and gurgling," Murphy said.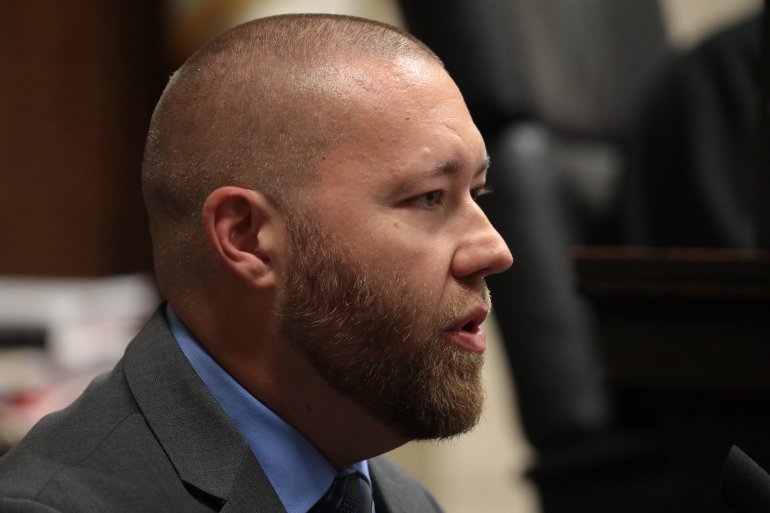 Chicago police officer David Ivankovich also arrived on the scene after the shooting, he testified. He said he heard officers Thomas Gaffney and Joseph McElligott call in a radio request for a Taser; Ivankovich had one in his squad car.
He and his partner were en route to the scene when they heard another call over the radio: Shots had been fired at 41st Street and Pulaski Road. Ivankovich was about two miles south, on Pulaski Road near 59th Street. Prosecutors played dashcam video from Ivankovich's squad car.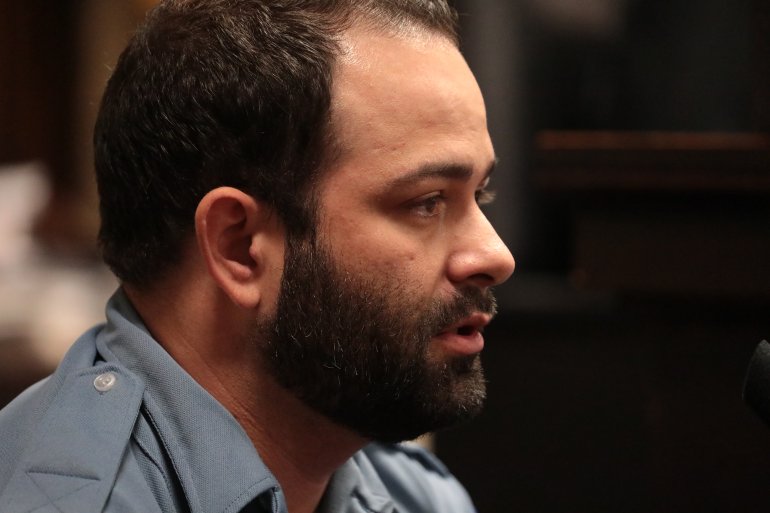 11:45 a.m. A witness recalls hearing multiple shots
The 10th state witness to take the stand was Xavier Torres, 26, a utility company employee who witnessed the shooting. Torres had fallen ill and was being driven by his father to a North Side hospital, where they believed Torres would be given better care than a nearby facility could provide.
Torres said he was sitting in the passenger seat when his dad pulled over due to police activity. Torres saw McDonald walking down the street, "Kind of a weird walk, just walking away from police."
That's when Torres heard multiple gunshots and saw McDonald fall to the ground, he testified. "I don't know exactly how many shots. I just knew I heard multiple."
Torres said he never saw McDonald threaten the police or move toward them. He "just looked like he was trying to get away from the officers."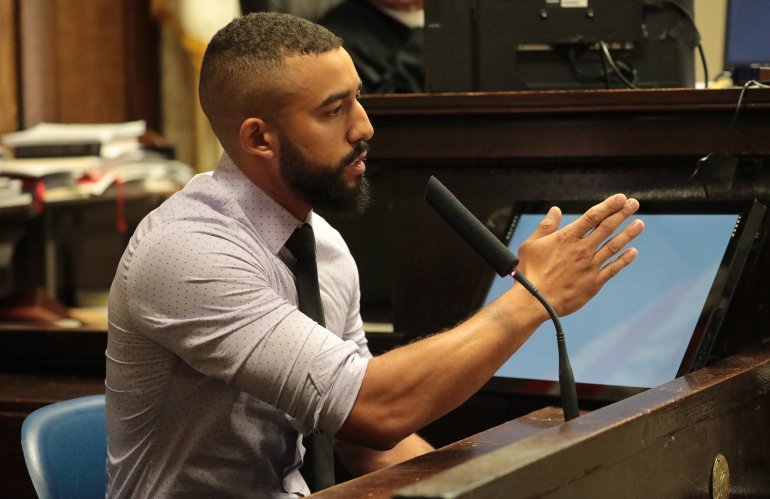 11:20 a.m. Van Dyke's partner takes the stand
Joseph Walsh, Van Dyke's partner from the night of the shooting, took the stand for almost 90 minutes Tuesday. He requested there be no video, audio or photographic documentation of his testimony.
The Chicago police officer was testifying under use immunity, meaning nothing he said on the stand can be used against him. Walsh has a pending felony case: He was charged with obstruction of justice, conspiracy and official misconduct for his alleged role in covering up the McDonald shooting.
Walsh testified that he feared someone could get hurt when McDonald, knife in hand, ran toward a Burger King and Dunkin' Donuts. Prosecutors pointed out that only Van Dyke fired his gun that night.
"I reasonably believed he [Laquan McDonald] was going to enter the Burger King armed with a knife," Walsh said. "I did not want him to enter that Burger King knowing there were people in there."
When prosecutors pointed out only Van Dyke fired his gun, Walsh said the two men saw McDonald from different perspectives. He said he flinched when he heard gunshots ring out roughly six to eight feet from where he was standing.
"I flinched and bent at the knees," Walsh said. "I did not realize it was happening. … It startled me."
Walsh testified that he believed McDonald was a threat, even after he fell to the ground after being shot, because the teen had a three-inch knife.
Next to an image of Laquan McDonald body lying in the street, Chicago police Officer Jason Van Dyke listens in during the trial for the shooting death of Laquan McDonald at the Leighton Criminal Court Building, Tuesday, Sept. 18, 2018. (Antonio Perez/pool/Chicago Tribune)

Special prosecutor Joe McMahon, left, talks with judge as Chicago police Officer Jason Van Dyke, right, listens in during the trial for the shooting death of Laquan McDonald at the Leighton Criminal Court Building, Tuesday, Sept. 18, 2018. (Antonio Perez/pool/Chicago Tribune)

Chicago police Officer Jason Van Dyke listens in during the trial for the shooting death of Laquan McDonald at the Leighton Criminal Court Building, Tuesday, Sept. 18, 2018. (Antonio Perez/pool/Chicago Tribune)

Tiffany Van Dyke, wife of Jason Van Dyke, looks on during the trial for the shooting death of Laquan McDonald at the Leighton Criminal Court Building, Tuesday, Sept. 18, 2018. (Antonio Perez/pool/Chicago Tribune)

Police Detective Roberto Garcia examines a clip belonging to Chicago police Officer Jason Van Dyke after it was brought out as evidence during the trial for the shooting death of Laquan McDonald at the Leighton Criminal Court Building, Tuesday, Sept. 18, 2018. (Antonio Perez/pool/Chicago Tribune)

Police Detective Roberto Garcia examines and counts the bullets belonging to Chicago police Officer Jason Van Dyke after it was brought out as evidence during the trial for the shooting death of Laquan McDonald at the Leighton Criminal Court Building, Tuesday, Sept. 18, 2018. (Antonio Perez/pool/Chicago Tribune)

Chicago police Officer Kamal Judeh holds up evidence containing metal fragments during the trial for the shooting death of Laquan McDonald at the Leighton Criminal Court Building, Tuesday, Sept. 18, 2018. (Antonio Perez/pool/Chicago Tribune)

Jason Van Dyke's 9mm semiautomatic Smith and Wesson used in the killing of Laquan Mcdonald appears at the trial for the shooting death of McDonald at the Leighton Criminal Court Building on Tuesday, Sept. 18, 2018, in Chicago. This is Day 2 of the trial. (Antonio Perez/Chicago Tribune/pool)

Police Detective Roberto Garcia examines and counts the bullets belonging to Chicago police Officer Jason Van Dyke after it was brought out as evidence during the trial for the shooting death of Laquan McDonald at the Leighton Criminal Court Building, Tuesday, Sept. 18, 2018. (Antonio Perez/pool/Chicago Tribune)

Attorney Daniel Herbert speaks during the trial for the shooting death of Laquan McDonald at the Leighton Criminal Court Building, Tuesday, Sept. 18, 2018. (Antonio Perez/pool/Chicago Tribune)

Prosecuting attorney Jody Gleason speaks during the trial for the shooting death of Laquan McDonald at the Leighton Criminal Court Building, Tuesday, Sept. 18, 2018. (Antonio Perez/pool/Chicago Tribune)

Police Officer David Ivankovich testifies from the witness stand during the trial for the shooting death of Laquan McDonald at the Leighton Criminal Court Building, Tuesday, Sept. 18, 2018. Ivankovich testified how he and his partner were responding with a Taser to the shooting scene on the night Laquan McDonald was killed. (Antonio Perez/pool/Chicago Tribune)

Police Officer David Ivankovich is sworn in before testifying from the witness stand during the trial for the shooting death of Laquan McDonald at the Leighton Criminal Court Building, Tuesday, Sept. 18, 2018. Ivankovich testified how he and his partner were responding with a Taser to the shooting scene on the night Laquan McDonald was killed. (Antonio Perez/pool/Chicago Tribune)

Photo of clothing belonging to Laquan McDonald, part of an image of the people's exhibit taken on the day and scene when Laquan McDonald was fatally shot to death, shown on a screen to jurors during the trial for the shooting death of Laquan McDonald at the Leighton Criminal Court Building, Tuesday, Sept. 18, 2018. (Chicago Police Department)

Photo of clothing belonging to Laquan McDonald, part of an image of the people's exhibit taken on the day and scene when Laquan McDonald was fatally shot to death, shown on a screen to jurors during the trial for the shooting death of Laquan McDonald at the Leighton Criminal Court Building, Tuesday, Sept. 18, 2018. (Chicago Police Department)

Photo of clothing belonging to Laquan McDonald, part of an image of the people's exhibit taken on the day and scene when Laquan McDonald was fatally shot to death, shown on a screen to jurors during the trial for the shooting death of Laquan McDonald at the Leighton Criminal Court Building, Tuesday, Sept. 18, 2018. (Chicago Police Department)

Photo of one of the 16 bullet casings, part of an image of the people's exhibit taken on the day and scene when Laquan McDonald was fatally shot to death, shown on a screen to jurors during the trial for the shooting death of Laquan McDonald at the Leighton Criminal Court Building, Tuesday, Sept. 18, 2018. (Chicago Police Department)

Photo of an image of a cracked police vehicle's windshield caused by a knife held by Laquan McDonald, part of the people's exhibit taken on the day and scene when Laquan McDonald was fatally shot to death, shown on a screen to jurors during the trial for the shooting death of Laquan McDonald at the Leighton Criminal Court Building, Tuesday, Sept. 18, 2018. (Chicago Police Department)

Photo of an image of the people's exhibit taken on the day and scene when Laquan McDonald was fatally shot to death, shown on a screen to jurors during the trial for the shooting death of Laquan McDonald at the Leighton Criminal Court Building, Tuesday, Sept. 18, 2018. (Chicago Police Department)

Photo of an image of the people's exhibit taken on the day and scene when Laquan McDonald was fatally shot to death, shown on a screen to jurors during the trial for the shooting death of Laquan McDonald at the Leighton Criminal Court Building, Tuesday, Sept. 18, 2018. (Chicago Police Department)

Photo of an image of the people's exhibit taken on the day and scene when Laquan McDonald was fatally shot to death, shown on a screen to jurors during the trial for the shooting death of Laquan McDonald at the Leighton Criminal Court Building, Tuesday, Sept. 18, 2018. (Chicago Police Department)

Photo of an image of the people's exhibit taken on the day and scene when Laquan McDonald was fatally shot to death, shown on a screen to jurors during the trial for the shooting death of Laquan McDonald at the Leighton Criminal Court Building, Tuesday, Sept. 18, 2018. (Chicago Police Department)