This is an archived article and the information in the article may be outdated. Please look at the time stamp on the story to see when it was last updated.
CHICAGO — Jason Van Dyke's attorneys began mounting their defense Monday with testimony from a longtime forensic pathologist and jabs at Laquan McDonald's character.
Dr. Shaku Teas said only one of the 16 shots fired at McDonald on Oct. 20, 2014, was "rapidly fatal": a bullet that ripped through his chest and pierced his lung.
That testimony differed sharply from that presented last week by Cook County's chief medical examiner, who said each shot caused bleeding and "accelerated" McDonald's death.
Defense attorneys painted McDonald as aggressive and hostile with anecdotes from three current or former juvenile corrections staffers. One said McDonald was high on PCP during intake; another said the teen threatened employees.
Van Dyke, now 40, is charged with first-degree murder, official misconduct and aggravated battery. McDonald, 17, was armed with a three-inch blade and trying to steal car stereos when officers called for a Taser. Within seconds of arriving on the scene, Van Dyke shot McDonald 16 times.
Court will continue Tuesday at the Leighton Criminal Courthouse, 2650 S. California Ave.
LIVE UPDATES FROM THE COURTROOM:
2:05 p.m. Testimony ends for the day. Court to resume Tuesday morning
1:55 p.m. 'He was very hostile': Juvenile jail employees testify
Defense attorneys Monday called three Lynch witnesses, or people who can testify about McDonald's alleged violent past.
Under Illinois law, a defendant claiming self-defense is allowed to call witnesses who can describe a victim's violent history — even if the defendant had no way of knowing about that past prior to the incident that landed him or her in court.
In Aug. 2013, McDonald became combative when he was taken into custody at a juvenile courthouse, Cook County sheriff's Officer Joseph Plaud testified.
McDonald raised an arm at an officer, who then hit McDonald in the stomach, Plaud said. "He [McDonald] was basically saying, 'F— you. F— the judge.'"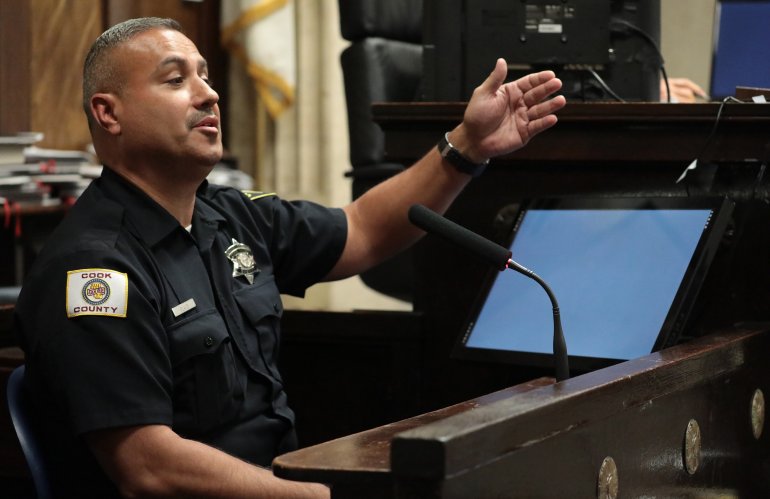 Miguel DeJesus recounted a similar incident at the Cook County Juvenile Detention Center in Jan. 2014. During intake, DeJesus said, McDonald admitted to being high on PCP and then threatened to beat an employee.
"He was very hostile," said DeJesus, who has worked as a youth development specialist since 2011. "He said, 'I'm on the leaf. I'm on the pills.'"
Three months later, according Westmont police Officer Tyler Sage, a rapid response team inside the detention center was called when McDonald was "violently resisting" officers and kicking his legs.
Sage had trained with the Chicago Police Department and was working in the detention center at the time.
12:55 p.m. Forensic pathologist first to testify for defense
Forensic pathologist Dr. Shaku Teas said she believes only one gunshot wound was "rapidly fatal" — a bullet that pierced McDonald's chest and ripped through his lung.
That wound, she testified, would've killed McDonald in one to five minutes. She told jurors she believed the other bullet wounds did not cause significant enough bleeding to contribute to the teen's death.
That testimony differs sharply from that of Dr. Ponni Arunkumar, Cook County's chief medical examiner, who last week said each of McDonald's 16 distinct gunshot wounds "accelerated" his death — and that he was alive when each bullet entered or grazed his body.
Teas on Monday testified that McDonald was likely dead or in the process of dying when some shots hit him. "He was probably dead in five minutes, maybe even less."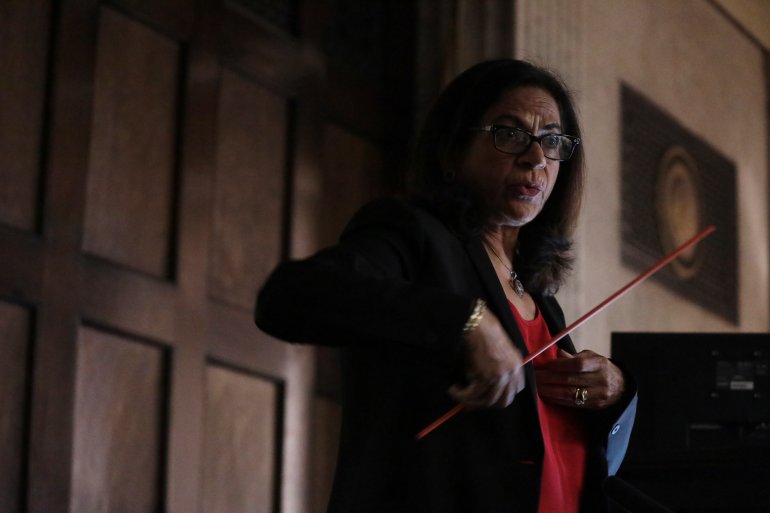 The pathologist also testified that she billed Van Dyke's defense team $9,000 so far for her testimony and work on the case. She is typically paid $375 per hour of work, she said.
Teas said the level of PCP in McDonald's body was likely higher than tests revealed because his blood was diluted; he had been given extra blood and fluids while being treated.
The only thing Teas and Arunkumar seemed to agree on is that McDonald sustained the gunshot wound to his hand while he was on the ground.
Jurors were shown again shown a series of graphic autopsy photos during the roughly three hours Teas was on the stand. McDonald's mother, Tina Hunter, looked down at the floor.
9:55 a.m. Defense begins presenting its case
Defense attorneys began to present their case Monday as the Jason Van Dyke trial moved into into fifth day.
First on the stand was Dr. Shaku Teas, a forensic pathologist who previously worked for the Cook County Medical Examiner's Office. To date, she has performed about 6,000 autopsies — hundreds of which were for gunshot wound victims.
Outside, small groups of protesters gathered on the sidewalk.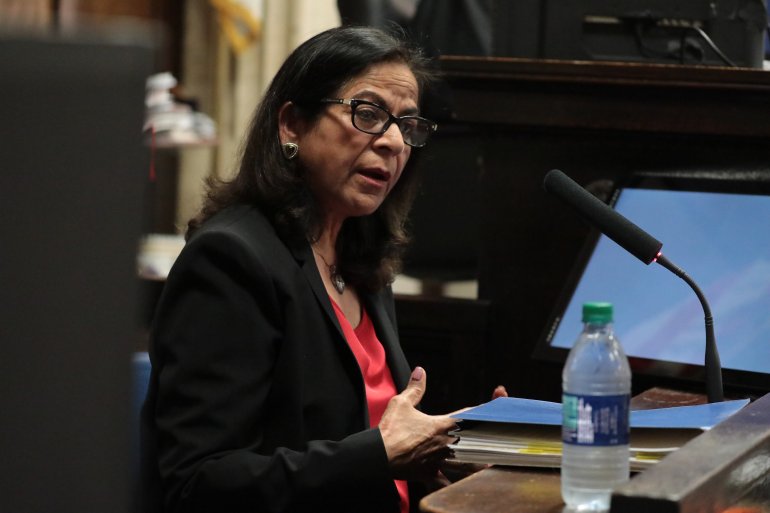 Greeted by a couple of vocal protestors on my way to Van Dyke trial. They were greeted by a dozen plus cpd officers with blank stares… Holding ground and keeping them contained-unable to march or block sidewalk. https://t.co/l3RMZJIBPk pic.twitter.com/rBFr7WHoVQ

— Julie Unruh (@UnruhJulie) September 24, 2018
I counted about 15-20 protesters outside this AM, spread in small groups across the front sidewalk and lawn. This chant has been pretty common during Jason Van Dyke trial pic.twitter.com/oH05AH4ICJ

— Erica Demarest (@ericademarest) September 24, 2018