This is an archived article and the information in the article may be outdated. Please look at the time stamp on the story to see when it was last updated.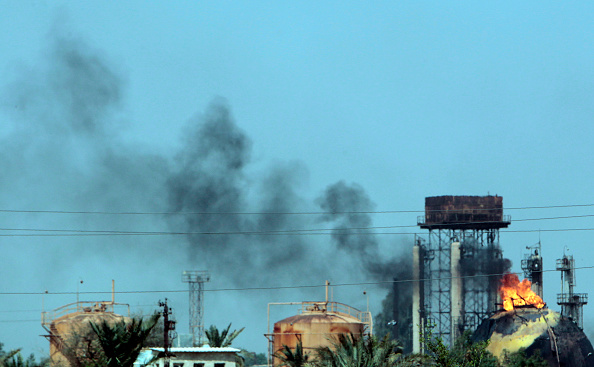 BAGHDAD — The Islamic State group has launched a coordinated assault on a natural gas plant north of Baghdad that killed at least 14 people, while a string of other bomb attacks in or close to the capital killed 15 others, according to Iraqi officials.
The attack on the gas plant started at dawn with a suicide car bomber hitting the facility's main gate in the town of Taji, about 12 miles north of Baghdad. Then several suicide bombers and militants broke into the plant and clashed with the security forces, an official said, adding that 27 troops were wounded.
The IS-affiliated Aamaq news agency credited a group of "Caliphate soldiers" for the attack.
In a statement, Deputy Oil Minister Hamid Younis said firefighters managed to control and extinguish a fire caused by the explosions and technicians were examining the damage.
Elsewhere, police and hospital officials say a car bomb targeting a shopping area in the town of Latifiyah, about 20 miles south of the capital, killed seven people and wounding 18.
And three separate bomb attacks targeted commercial areas in Baghdad, killing at least eight civilians and wounding 28.
Medical officials confirmed the casualty figures.