This is an archived article and the information in the article may be outdated. Please look at the time stamp on the story to see when it was last updated.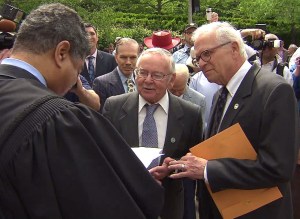 A bill that would legalize same sex-marriage in Illinois passed its first major hurdle Tuesday.
The Senate Executive Committee approved Senate Bill 10 by a vote of 9-5 — that means it could go for a full vote in the state Senate soon.
Senate President John Cullerton said earlier he wanted to have a vote on the bill on Valentine's Day next Thursday.
Senators heard testimony from both sides of the issue Tuesday before taking the committee vote.
The Senate tried to pass the bill in January's lame duck session, but it never got out of committee.