This is an archived article and the information in the article may be outdated. Please look at the time stamp on the story to see when it was last updated.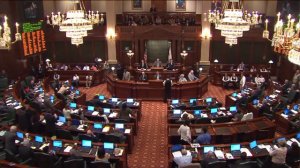 Illinois lawmakers are set to vote on a major, pension reform bill on Tuesday that comes with a big financial and political pricetag.
The state has the worst pension system in the country, and is $100 billion in debt.
The proposal would raise the retirement age for many state workers, scale back automatic, annual cost-of-living increases, and offer a 401(k)-style option.
Legislators from both parties are scrambling to line up support for the measure. Labor groups are firmly opposed to the bill.
"We can do better, and today we have that opportunity," said Sen. Christine Radogno, the Republican Minority Leader.
"… the Illinois pension systems are just too rich to be afforded as the state goes forward," said Rep. Michael Madigan, the Democratic Speaker of the House.
WGN News Writer C. Hayes published this story.