This is an archived article and the information in the article may be outdated. Please look at the time stamp on the story to see when it was last updated.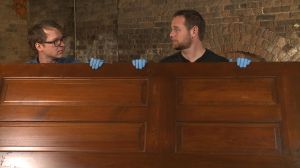 Ryan and the Rebuilding Exchange's Blake Sloane take to the RAM Truck Workshop at the Rebuilding Exchange to refinish a sad, old door without any sanding, stripping or hard chemicals.
Here's what you'll need:
Rubber gloves
Denatured alcohol
Restor-a-Finish
#0000 steel wool
Cotton rags
This is how you do it:
Lightly scour door with steel wool and denatured alcohol.
Wipe on Restor-a-Finish using cotton rag.
Wipe excess Restor-a-Finish with clean cotton rag.
It's a simple project that makes a world of difference. It took just 15 minutes and about $5 worth of supplies.
Weekend Workbench debuts Sunday, April 7th on WGN.