This is an archived article and the information in the article may be outdated. Please look at the time stamp on the story to see when it was last updated.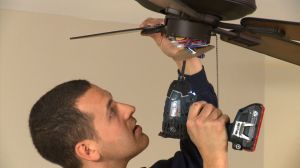 North side handyman Michael Goldstein is known as the Mensch with a Wrench to his clients and he's one of our Weekend Workbench experts. On Sunday, April 7th at 10:30am on WGN, the Mensch will show Ryan how to install a ceiling fan.
Before you start, here are the tools and supplies necessary:
Phillips and flat head screw drivers
Electrical tape
Electrical tester
Drill
Fan unit
Here are the steps:
 Turn off power at breaker.
Mount bracket.
Cut wire and attach down rod to fan base.
Lock in fan base and make electrical connections.
Assemble fan blades and attach to fan base.
Mount light fixture
Screw in bulbs and attach glass cover.
This is a relatively easy installation, only complicated by the light electrical work at the ceiling. It should take a beginner about an hour and costs differ depending on the fan unit. Don't forget the light bulbs!