This is an archived article and the information in the article may be outdated. Please look at the time stamp on the story to see when it was last updated.
Illinois Republican Congressman Peter Roskam of Wheaton is under investigation by the House Ethics Committee.
The announcement came from the ethics committee's Republican chairman and a top Democratic member.
A reason for the investigation was not given, and the committee said its review of Roskam does not indicate any violations, but the committee will announce more on the matter on or before September 11th.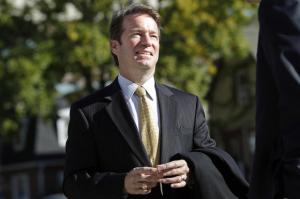 Roskam is serving his fourth term in Congress.
Roskam's Communications Director Stephanie Kittredge issued the following statement:
"The record reflects that Rep. Roskam fully complied with all laws, rules, and procedures related to privately sponsored travel. The trip was vetted and approved by the House Ethics Committee, the body legally authorized to make determinations on Congressional conduct.   The OCE is wrong to take issue with the involvement of the Government of Taiwan in planning and conducting the trip, a matter that is routine, allowed under the law, and was known to the House Ethics Committee as they thoroughly vetted and approved the trip.  Rep. Roskam will continue to fully cooperate, having already turned over every document and communication, made himself and his staff available for interview, waived his right to confidentiality with the House Ethics Committee, and otherwise provided any and all information regarding the trip to OCE.  Rep. Roskam is taking the extraordinary step of voluntarily releasing the non-public OCE report and materials relating to their review.  He fully expects the clear and indisputable facts of the case to speak for themselves, that both he and his staff have acted in accordance with all laws, rules, and regulations.  Rep. Roskam and his staff have fully followed House Ethics Committee procedures to take an approved, appropriate, and informative trip to a key U.S. strategic ally."