This is an archived article and the information in the article may be outdated. Please look at the time stamp on the story to see when it was last updated.
Tuesday's not going to be a good beach day, with cool temperatures, cool winds and high waves leading the day's weather forecast.
The National Weather Service has issued a beach hazards statement through late tonight warning of dangerous swimming conditions, high waves, and strong rip currents on Lake Michigan beaches in Illinois. According to the agency:"People visiting the beaches should stay out of the water."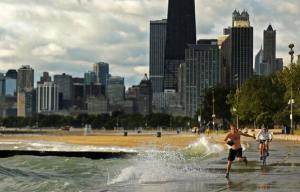 Chances are, not a lot of people will be wanting to swim anyway. Temperatures are expected to peak in the low-to-mid-70s today, lower close to the lake, thanks to the arrival of a high-pressure system from Canada, according to WGN-TV meteorologist Tim Skilling. With that system are winds out of the north to northeast that will keep lakefront temperatures as low as the 50s.
— Chicago Tribune staff report