This is an archived article and the information in the article may be outdated. Please look at the time stamp on the story to see when it was last updated.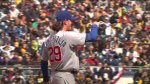 If pitching is your thing, then be sure to stay tuned to Cubs baseball for the next few days. Runs will be at a premium as the North Siders take on the Cardinals and the Nationals and their top-flight pitching staffs. The Redbirds, Nats and Cubs rank 1st, 4th and 6th respectively in team ERA. But it is the starting staffs that really grab your attention. In that department the Cardinals rank #1 with a 2.21 ERA, a full run better than the Reds rotation at 3.31. Washington is third in the league at 3.42 with the Cubs starters right behind them at 3.48. Things could get interesting late as all three of these clubs have had bullpen issues. The Cardinals are dead last in the NL in bullpen ERA(5.45) and have blown seven save opportunities. The Nationals are middle of the pack with a relief ERA of 3.77 and the Cubs have converted only half of their save chances. Here's a look at the match-ups for the next two series:
Travis Wood (2.50) vs. Lance Lynn 5-0 (2.75), Carlos Villanueva (2.85) vs Jake Westbrook (1.07)  – that's a major league best.
Jeff Samardzija (3.09) vs  Ross "Herr" Detweiller (2.50), Edwin Jackson (6.39) vs Stephen Strasburg (3.45), and Scott Feldman (2.70) vs Gio Gonzalez (4.97).
Only Jackson and Gonzalez have ERAs above the league average 3.89. The Cubs catch a bit of break in that they don't get Wainwright or Jordan Zimmerman, who might be the most under the radar stud in the league.
jd