This is an archived article and the information in the article may be outdated. Please look at the time stamp on the story to see when it was last updated.
Insured or uninsured, navigating the health care system can be tough.  Now, imagine doing it when you're homeless.  On this Thanksgiving, a feel good story about the spirit of giving between Loyola University Medical residents and homeless men and women who turn to West Suburban PADS for help.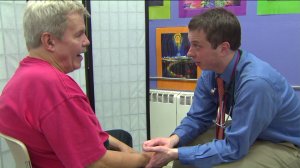 West Suburban PADS says they're thankful for the community support that makes possible this nightly emergency shelter and medical clinic partnership with Loyola. The PADS goal is always to help men, women and children get back into stable housing.  You can reach them by clicking these links.
http://www.westsuburbanpads.org
http://www.facebook.com/wspads
Twitter @WestSubPADS
Producer Pam Grimes and Photojournalist Steve Schueuer produced this report.