This is an archived article and the information in the article may be outdated. Please look at the time stamp on the story to see when it was last updated.
The head of the Dept of Children and Family Services is speaking out for the first time, following the controversial death of 17-month-old Semaj Crosby. She was found dead last month at her Joliet home, just hours after a DCFS well-being check. Her home was eventually condemned.
There are a lot of questions about how DCFS handled the case.
Director George Sheldon says the entire agency agonizes over every child death and they shouldn't happen since the mission of DCFS is to protect children.
According to Sheldon, the case worker who visited the home of Semaj Crosby just before the toddler died is not to blame.
But Sheldon admits systematic improvements are needed.
"There are significant issues we're still dealing with and these child deaths are an example of that," he tells WGN News. "Mistakes were made. There's no question about that."
Mistakes that may have factored into Semaj's death include a lack of communication within the department.
"There were at least four or five protective investigators that visited that home. But was there communication between them… That's what we've got to deal with."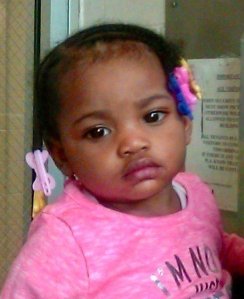 Two neglect cases were still open when a case worker visited the Joliet home just hours before the toddler was killed.
Sheldon says the filthy conditions that day and previous visits did not warrant separating the family.
"None of those reports rose to the level of removing that child," he says.  "It was uninhabitable because it didn't have a working stove. The next day (it was) habitable because landlord came and replaced the stove."
Days later, the home somehow burned to the ground.  It was cause for another criminal investigation linked to the tragedy.
Sheldon says all case files will be released when the death investigation is over.
In response to a Chicago Tribune report that DCFS workers are pressured to close cases quickly, Sheldon denies such practices.  But he noted difficulty in hiring and retaining employees in certain areas.
Sheldon took over DCFS after a revolving door of nine directors over seven years. But he has since become the focus of a state ethics probe, with allegations he awarded contracts to friends and associates.
"When I got here, this was a troubled agency," he says.  "I reached out and got the best people I could find around the country. People that I've worked with."
Sheldon is confident the probe will clear him and  insists he complied with the procurement code.
The entire system in Illinois has been a learning experience for the child welfare veteran who is credited with turning the system around in Florida.
He calls Florida a cakewalk compared to Illinois.
"Because of so much past abuse in Illinois, I think it obscures your ability to move expeditiously in a department that needed change and needed it desperately…. I have no regrets."
More state hearings are likely this summer with critics questioning Sheldon's handling of the agency and the deaths of children in its care.
However, there is a chance he could leave soon.
Sheldon tells WGN News he will decide this weekend whether or not to accept a non-profit job in Florida.
He called the decision very tough because he does not want to leave unfinished work here.