This is an archived article and the information in the article may be outdated. Please look at the time stamp on the story to see when it was last updated.
Brian Bickell scored the game-winner with just over three minutes left in the first overtime as the Blackhawks win Game 1 2-1 Tuesday night.
The Wild played the game without goalie Nick Backstrom who was injured during pregame warm-ups.  Josh Harding played well in relief.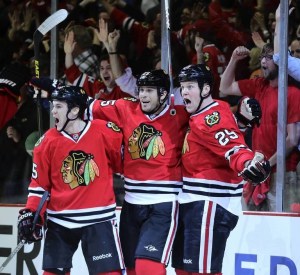 Minnesota's Cal Clutterbuck gave the Wild a 1-0 lead five minutes into the game.  The Hawks tied the game early in the 2nd when Patrick Kane set up Marian Hossa on the Power Play.  Corey Crawford had 26 saves, Harding 35.
Game 2 is Friday night at the United Center, game time is 8:30pm.