This is an archived article and the information in the article may be outdated. Please look at the time stamp on the story to see when it was last updated.
An Ohio couple is on edge after their baby monitor was hacked.
According to WXIX, Heather and Adam Shreck woke up with a start to the sound of a man's voice. Heather picked up her cell phone to check the camera in her 10-month-old daughter Emma's room. The camera was moving, but she wasn't moving it.
"About the time I saw it moving, I also heard a voice again start screaming at my daughter. He was screaming, 'Wake up baby. Wake up baby.' Then just screaming at her trying to wake her up," Heather told WXIX.
When Heather and Adam ran to Emma's room, they saw the camera moving, and it eventually pointed away from the baby to Adam.
The man then started swearing and screaming at Adam from the monitor.
The couple quickly unplugged the camera.
It turns out, someone had hacked into their Foscam IP Camera and was watching her baby.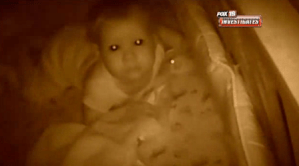 To avoid this from happening, tech experts say to make sure the password for your WiFi and the camera itself is different. Also check the manufacturer's website regularly for updates.
For more on this story, check out WXIX's coverage here.