This is an archived article and the information in the article may be outdated. Please look at the time stamp on the story to see when it was last updated.
CHICAGO — The gunman who fatally shot three people at a South Side hospital Monday shot himself after police shot him in the abdomen, the Cook County Medical Examiner's Office said.
Autopsy results were released Monday for 32-year-old Juan Lopez of Chicago — the man the Chicago Police Department identified as the gunman in Monday's fatal shooting at Mercy Hospital and Medical Center at 2525 S. Michigan Ave.
The medical examiner said Lopez was shot in the abdomen and then shot himself in the head. The cause of death was ruled a homicide.
Three people were killed in the shooting: Chicago police Officer Samuel Jimenez, emergency room doctor Tamara O'Neal and first-year pharmacy resident Dayna Less.
Lopez was an employee with the Chicago Housing Authority. He was hired in Feb. 2018 and Lopez worked as an associate program specialist in the customer care center at CHA's Loop headquarters.
"This was an unthinkable act of violence," CHA CEO Eugene E. Jones said in a statement. "We are filled with overwhelming sadness and our hearts go out to the families of those who died, and to all affected by this horrific tragedy,"
According to CHA, Lopez passed all standard background checks and had no complaints against him while with the organization.
Chicago police responded to the scene at Mercy Hospital and Medical Center for reports of shots fired just before 3:30 p.m. Monday.
Chicago police Supt. Eddie Johnson called the shooting a domestic incident. Lopez's first victim was O'Neal, his former fiancée. Lopez confronted O'Neal in the hospital parking lot. A witness told WGN News that Lopez was asking O'Neal for her engagement ring. When O'Neal said she didn't have it, he started shooting.
Lopez then went inside the hospital, where he fatally shot Less, 25, who was just getting off an elevator. She was a recent graduate of Purdue University.
Jimenez, 28, was killed during a shootout with Lopez. Jimenez joined the force in Feb. 2017 and recently completed probationary training, becoming a full-fledged officer, Johnson said. Jimenez was married and a father of three children. He is the second police officer to be killed in the line of duty this year.
Police spokesman Anthony Guglielmi said Jimenez didn't typically work in the hospital area, but that he responded to the scene to provide backup for other officers who were already there. Guglielmi said it "speaks volumes about his character."
A procession was held for Jimenez Monday night.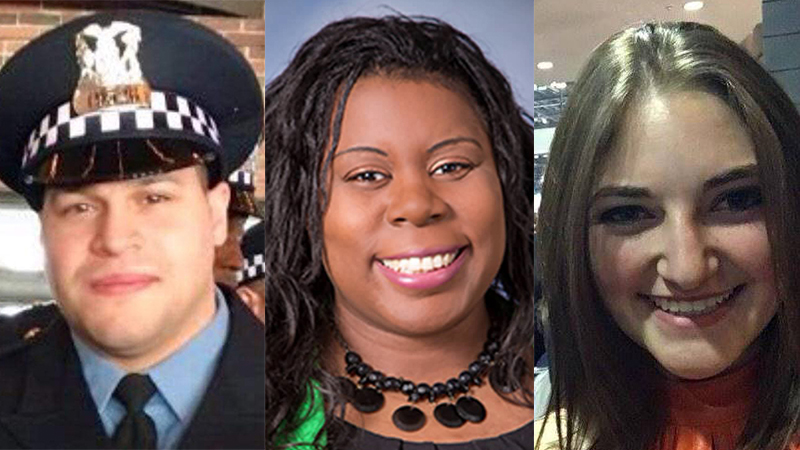 Chicago "lost a doctor, pharmaceutical assistant and a police officer, all going about their day, all doing what they loved," Mayor Rahm Emanuel said, fighting back tears. "This just tears at the soul of our city. It is the face and a consequence of evil."