This is an archived article and the information in the article may be outdated. Please look at the time stamp on the story to see when it was last updated.
Chicago police released figures Wednesday morning showing there were 18 fewer murders this past April than in April of last year.
But that's of little consolation to the family of 27-year-old Darrin Rodgers.
He was one of 3 young men killed Tuesday night. He was a father of three and had another one on the way.
His family is heartbroken over his death. Tears run down the face of Aaron Rodgers as he stands in front of the spot where his older brother, Darrin, was shot and killed just steps from their front door.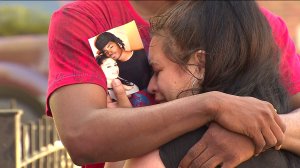 Their mother, Lelia, heard the gunshots and ran downstairs only to see her oldest child lying in the grass: "I went down there and applied pressure to his chest and talked to him. My son took three breaths and he was gone," said Rodgers.
Darrin was standing on the corner of 69th and Cornell around midnight with friends when someone may have tried to rob him.
He ran and shots were fired, hitting him in the chest. Minutes before the shooting, police had come by and told the group they should get off the corner because it has already been a violent night nearby with a triple shooting near 71st and South Jeffrey.
Darrin Rodgers was one of three men shot and killed Tuesday night in Chicago.  At least 14 others were wounded in shootings across the city. Chicago Police Superintendent Garry McCarthy says while the warmer weather may have been a factor it was not the cause; guns were.
He says changes in the police department and new policing strategies have lead to a 42% decline in the murder rate so far this year.
"This city hasn't had less than 100 murders in the first four months of the year since the mid-60's. That's what we've achieved in the first four months here. Progress, not success. There's a lot of work that needs to be done," said McCarthy on the WGN Morning News.
Police have not made any arrests in Darrin Rodgers murder or any of the other murders from Tuesday night.