This is an archived article and the information in the article may be outdated. Please look at the time stamp on the story to see when it was last updated.
By Holly Yan and Tom Cohen, CNN
The game of chicken failed. Neither side blinked. Now millions will pay the price.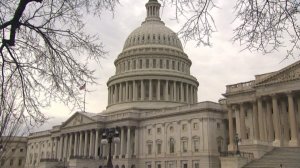 Americans watched a colossal failure by Congress overnight — and the shutdown of their government.
For weeks, the House and the Senate blamed and bickered, each claiming they're standing up for what the public wants.
In the end, it led to the one outcome nobody wanted — one that will stop 800,000 Americans from getting paid and could cost the economy about $1 billion a week.
"Agencies should now execute plans for an orderly shutdown due to the absence of appropriations," the Office of Management & Budget said in a note it sent to federal employees.
This is the first time the government has shut down in nearly 18 years. The last time it did, the stalemate lasted 21 days.
Now, the Republican-controlled House and the Democrat-controlled Senate,will try to see if they can reconcile their two versions of the spending plan at the heart of the issue. So far, each has refused to budge.
House Republicans insist the spending plan for the new fiscal year include anti-Obamacare amendments. Senate Democrats are just as insistent that it doesn't.
Obamacare, as President Barack Obama's signature healthcare plan is known, isn't directly tied to funding the government. But it's so unpopular among a group of Republicans that they want it undercut, if not outright repealed.
"Healthcare law is the most insidious law known to man," Republican Rep. Todd Rokita of Indiana said.
Democratic Sen. Bob Menendez, the chairman of the Senate Foreign Relations Committee, said the shutdown gives the United States a black eye.
"It is a dangerous message to the world," he said. "We tell other nations that we believe that they have to have certain disciplines. And yet, we cannot ultimately keep our own budget open and the nation and its government functioning."
Amid the finger-wagging and fulminating, the new health insurance went into effect on schedule Tuesday.
"The Affordable Care Act is moving forward. You can't shut it down," said a post on Barack Obama's verified Twitter feed.
What's next
About an hour after the shutdown began at 12:01 a.m. ET Tuesday, House members voted to once again tack on the anti-Obamacare amendments that the Senate has said is a deal-breaker. They also requested a conference with the Senate to work out their differences.
But Senate Majority Leader Harry Reid has already said he wouldn't agree to such a meeting until the House presents a clean spending bill stripped of the amendments.
"We will not go to conference with a gun to our head," Reid said late Monday night.
The Senate will convene at 9:30 a.m. ET Tuesday, where it will once again reject the House amendments. The House wants to delay the requirement that everyone gets health insurance.
This is how it's gone for more than a week: The House sends a version of the bill with provisions the Senate finds objectionable; the Senate kicks it back. The House sends it again; the Senate kicks it back again.
While Congress could pass a temporary funding measure as they work out their differences, there are no signs of any discussion along those lines right now.
House Speaker John Boehner held a press conference overnight saying he hopes the Senate will agree to meet.
When asked if he had a message for the 800,000 furloughed employees — or if he has a plan to restore back pay to them — Boehner responded, "The House has voted to keep the government open, but we also want basic fairness for all Americans under Obamacare."
He then walked away from the podium.
A blow to the economy
The shutdown won't happen all at once. The federal government is the country's largest employer.
Federal employees who are considered essential will continue working. Those deemed non-essential — more than 800,000 — will be furloughed, unsure when they'll be able to work or get paid again. Most furloughed federal workers are supposed to be out of their offices within four hours of the start of business Tuesday.
The shutdown could cost the still-struggling U.S. economy about $1 billion a week in pay lost by furloughed federal workers. And that's only the tip of the iceberg.
While many agencies have reserve funds and contingency plans that would give them some short-term leeway, the economic loss would snowball as the shutdown continued.
The total economic impact is likely to be at least 10 times greater than the simple calculation of lost wages of federal workers, said Brian Kessler, economist with Moody's Analytics. His firm estimates that a three- to four-week shutdown would cost the economy about $55 billion.
Initial market reaction around the world was muted early Tuesday morning.
Lisa Buckley, who co-owns the Denver-based American Automation security firm, counts on government contracts for 60% of her business. She's worried about how she'll pay her employees if the shutdown drags on.
"It's quite irresponsible how the government has been running the country," Buckley said. "If I ran my business like Congress has been handling the budget, I'd lose my job."
Troops will still get paid
Congress actually managed to come together to pass one bill — unanimously, at that.
The Senate approved a House-approved measure to ensure members of the military would continue to get paid during the shutdown. Obama signed off on it.
"You and your families deserve better than the dysfunction we're seeing in Congress," the president said in a video message to troops and Defense Department employees early Tuesday morning.
But it's uncertain how the shutdown will affect military veterans, including the 3.3 million who are disabled.
If the shutdown stretches into late October, the Veterans Affairs Department — meaning disability and pension checks could stop for elderly and ill veterans.
"That's what they need to pay rent, to pay food," said Tom Tarantino of the Iraq and Afghanistan Veterans of America. "It's not their total income, but it is a significant part of it."
Congressional paychecks also safe
Although much of the federal workforce will go without pay, checks will keep coming to the 533 current members of Congress.
Why? The 27th Amendment prevents any Congress from changing its own pay.
"That is disgraceful in my view," said freshman Rep. Tulsi Gabbard, D-Hawaii. "Basically the only people who get paid in a shutdown are members of Congress, and that is irresponsible."
The combat veteran said she plans to send any pay she receives during the shutdown back to the Treasury.
Rep. John Fleming, R-Louisiana, said he hadn't thought through what he would do with his paychecks, but said he would likely donate his pay during a shutdown to charity.
"Obviously we need to share the pain of the American people," he said.
The president too will get paid. His salary — $400,000 — is considered mandatory spending.
Obamacare still focus
How long the shutdown lasts will depend on how soon the Republicans and Democrats can come to an understanding.
Democrats have pressured Boehner to give up a losing fight over Obamacare forced by tea party conservatives.
Noting that the 2010 Affordable Care Act has been upheld by the Supreme Court, they say it is settled law that voters endorsed last year by re-electing Obama over GOP candidate Mitt Romney, who campaigned on repealing it.
"They are fixated on embarrassing our president, the president of the United States," Reid said.
Democratic Rep. Debbie Wasserman Schultz of Florida predicted that such a "clean" spending plan would pass easily with support from all Democrats and more moderate Republicans.
Some Republicans too expressed frustration Monday with the tactics of their congressional colleagues. Veteran GOP Sen. John McCain of Arizona noted that any attempt to repeal Obamacare would fail because of Obama's veto, which would require a two-thirds majority in the Senate to overcome.
"There's not 67 votes in the United States Senate, therefore, ergo, we're not going to repeal Obamacare," McCain said. "OK? That's it. We may do this for a day. We may do it for a week. We may do it for a month. It's going to end up the same way. "
Public reaction
According to a CNN/ORC poll, 68% of Americans think shutting down the government for even a few days is a bad idea, while 27% think it's a good idea.
And it appears most Americans would blame congressional Republicans for a shutdown: Sixty-nine percent said they agreed with the statement that the party's elected officials were acting like "spoiled children."
Democrats, however, weren't far behind: Fifty-eight percent of respondents said they too were acting like spoiled kids.
Another poll showed public support for Congress at record low levels — at 10%.
"Things like this can have such a big impact on people that aren't in the limelight. You know, people that are out working hourly positions" said Quinn Agard, who works on Liberty Island, the home of the Statue of Liberty.
More than 21,000 national park employees will be furloughed. Thousands more — like cleanup crews and concession employees — will be left without pay.
"This whole island will be shut down. So that's a ton of different positions that people wont be working and won't be getting paid for," Agard said.
The island draws up to 4 million visitors a year. And at $17 per adult ticket, it's also a big money maker.
Victoria Duncan, a concession stand worker at Liberty Island, is worried about what she'll do next.
"I'll have to find another job if they're not paying us while we're laid off, or file for unemployment. But it's still not going to be enough," she said. "It's hard. Even to think about it, is hard to think about."
CNN's Holly Yan reported and wrote from Atlanta; Tom Cohen from Washington. CNN's Lisa Desjardins, Lateef Mungin, Dana Bash, Poppy Harlow, Z. Byron Wolf, Chris Isidore, Ted Barrett, Deidre Walsh, Barbara Starr, Sophia Yan, Ed Payne and John Helton also contributed to this report.
TM & © 2013 Cable News Network, Inc., a Time Warner Company. All rights reserved.