This is an archived article and the information in the article may be outdated. Please look at the time stamp on the story to see when it was last updated.
Two strangers saved a man and his dog from Lake Michigan Tuesday.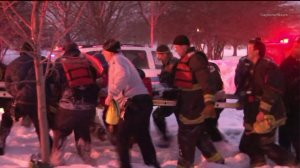 A man was walking three dogs near Montrose Point just after 5 p.m.
One of the dogs ended up in the water, and the man went in after it.
Two people heard the dogs barking along the bank, and saw the man and dog in the water.
One of the good Samaritans called 9-1-1, while the other tried to pull the man and dog out of the water before rescuers arrived.
The man was taken to the hospital in serious condition.
All of the dogs are OK.