This is an archived article and the information in the article may be outdated. Please look at the time stamp on the story to see when it was last updated.
Police are trying to find out how a 10-year-old girl fell nearly two-stories at the Sears store in The Loop.
The child's grandmother says she heard the girl call for help, and then saw her fall over the railing near an escalator.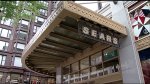 She's in serious-to-critical condition at Lurie Children's Hospital.
Sears issued a statement saying the company is cooperating with police in the investigation.