This is an archived article and the information in the article may be outdated. Please look at the time stamp on the story to see when it was last updated.
CHICAGO -- More than a couple hundred people paid their final respects on Wednesday to a cab driver found dead after he was robbed over the weekend.
While the death of Ismail Abdulle was being mourned at the Muslim Community Center in the city's Old Irving Park neighborhood, his life was being celebrated as well.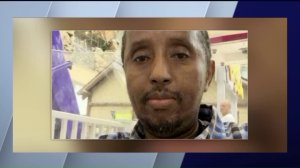 The 54-year-old cab driver was found severely beaten inside his cab Sunday morning in south suburban Blue Island after being robbed earlier in the day in Chicago.
Loved ones said he was a devout Muslim, good family man and hard worker who kept in touch with family in Minnesota and his native Somalia.
"He is a good man. He was a very good man. Take whatever you want but why (would) you want to kill him? Barlin Abdulle, his sister,said.
The Imam at the North Side mosque where he worshipped said Abdulle would go out of his way to help friends and even strangers.
"He was just a wonderful person and to see his life end so tragically in this way is really a moment of grief for all," Nazim Mangera, Imam, said.
Police discovered the man's body when they were following up on the robbery. He was found near the corner of Davis and Irving, just outside the Great Northern Lumber yard.
Blue Island police are looking for two suspects and the South Suburban Major Crimes task force is assisting in the case.
Officials said they suspect foul play.
Family members said an arrest has been made but police will not confirm that information. They said a press release is forthcoming.