This is an archived article and the information in the article may be outdated. Please look at the time stamp on the story to see when it was last updated.
CHICAGO — If you could fly anywhere in the U.S., where would you go — and why?
For some, answering that question may seem strictly hypothetical. A daydream at worst, a function of months of saving at best. But for Wes Milligan of Miami, it was a reality, with the help of a national airline program, social media and a stranger.
Milligan, 36, is the most recent winner of JetBlue's "Flying it Forward" program, in which participants enter to win a chance to go to their U.S. destination of choice by submitting — in just 140 characters — why they should, or would like to, earn the trip. Then that winner passes the prize on to another entrant in the city in which they arrive. The airline's program aims to spread good will: the visiting of a long-lost relative, helping those in need, achieving a life-long goal.
For Milligan, "My passion has been not only to try and end Alzheimer's, but to get young people involved," he said. Milligan, a marketing volunteer at the Miami Walk to End Alzheimer's, said he has not been directly affected by Alzheimer's; no family members have suffered from the disease. But years ago as a journalist, he was assigned to an Alzheimer's story, and got to meet some who were impacted.
"It was heart-wrenching," Milligan said. "Ever since then it's been my charity of choice."
When the chance arose to travel to any U.S. destination, a light bulb went off in Milligan's head: The Alzheimer's Association's national office was in Chicago. There he could learn the office's "best practices," as he called it; meet people working on national level and more of those impacted by the disease; and also work toward a $10,000 fundraising goal. "Any type of best practice we can get from the national office I know will help here [in Florida]," Milligan said.
So he submitted, through Twitter, that he wanted to travel to Chicago for that reason.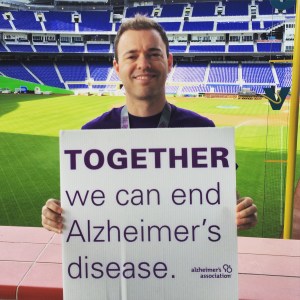 The previous winner, Amy, had landed in Fort Lauderdale, Fla., her destination of choice, and chose Wes's story because she had had family members impacted by Alzheimer's. "She found a connection with Wes," said Brittany Topham, whose advertising agency, Mullen Lowe, is helping JetBlue with the initiative.
"This program is enabling me to go to Miami to Chicago to do a cause that's world-reaching," said Milligan. "That's amazing." Earlier this week, Milligan landed in Chicago, itinerary in hand, ready to visit the national office and other Chicago venues. "If I can help the world in these next [few] days and raise some money and awareness, this will be one of the top things I've ever done in my life," he said.
I'm in #Chicago, but don't forget #Miami "Walk to End Alzheimer's" Saturday, Nov. 7, at Museum Park! #ENDALZ @aasefc pic.twitter.com/KTYlYWsWFj

— Wes Milligan (@wesmilligan) July 31, 2015
Milligan will be in town until Sunday. After his stay, he will choose the next winner, a duty he maintains brings no pressure, only excitement.
"[To] be able to choose the next person to fly it forward, it's very exciting," he said. "Who doesn't want to help this world?"
JetBlue "opened the floodgates" for submissions once Milligan was "all systems go," Topham said, and the airline has helped aggregate entries it will then send to Milligan.
Applications close 11 a.m. central Aug. 4. His decision will come a few days after that.
Milligan has bounced from city to city over the decades, living in places such as southeast Missouri, then Lafayette, La., then back to Missouri, then back to Louisiana, then to St. Louis, then to Memphis. He said he may have found a long-term home in Miami, where he has lived the past 11 months.
This is Milligan's second trip to Chicago in the past five years — only this time, with a greater cause.
"I'm still extremely flattered, because some person I don't even know named Amy is allowing me to use this platform to tell this story to end alzheimer's," he said.
A link to Milligan's donations page can be found here.  He also plans to visit other areas of the city, for fun, and is accepting suggestions on his Twitter account.
Next stops? My favorite Thai restaurant in #Chicago, Star of Siam, and I'm hoping to get ticket to @whitesox game. #FlyingItForward @JetBlue

— Wes Milligan (@wesmilligan) August 1, 2015