This is an archived article and the information in the article may be outdated. Please look at the time stamp on the story to see when it was last updated.
Severe river and flash flooding throughout the northern half of Illinois prompted Gov. Pat Quinn to declare a state of emergency Thursday.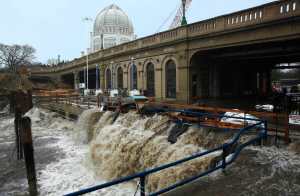 The state of emergency ensures that state resources are activated and that the federal government is aware that a disaster declaration is likely. It also allows the state to request resources as needed, such as personnel and equipment. State and local emergency personnel have been on the ground in hardest hit areas since early this morning.
"Heavy rainfall over the past few days has created dangerous flooding in areas across the state," Quinn said in a news release. "Everyone should stay home and off the roads if possible. To ensure safety as these storms continue, people should be alert and avoid flooded areas."
For flood safety information and real-time updates please visit Ready.Illinois.gov, and for traffic updates please visit wgntv.com/traffic.