This is an archived article and the information in the article may be outdated. Please look at the time stamp on the story to see when it was last updated.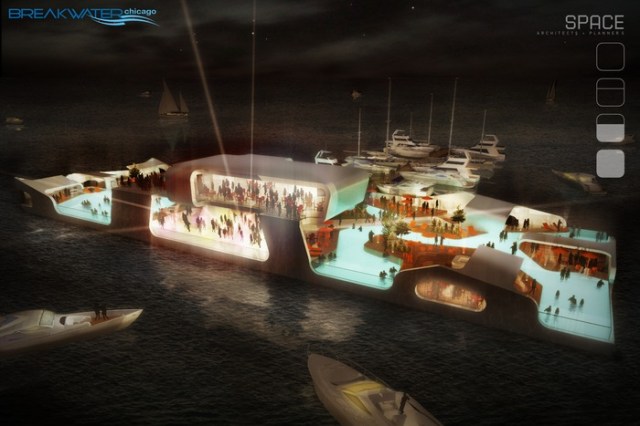 A local businessman is floating the idea of a floating island a mile off Chicago's navy pier.
Beau D'Arcy of Plainfield wants to create Breakwater Chicago an island full of sundecks, restaurants, a swimming pool and plenty of room for boats to dock.
Visitors would ride water taxis to the island to enjoy its shops, eateries and pool.
If he raises enough money and gets the right permits, he wants it to open by this time next year.
The total price tag for the floating attraction will likely be around $23 million, D'Arcy said. Only a portion of that — $30,000 to start — will be sought on Kickstarter. He hopes to raise the rest through more conventional means. So far, he said the project has drawn more than $500,000 in investments, though he declined to provide an exact figure.
D'Arcy said he's met with officials at all levels of government to learn about the permitting process and hasn't yet run into opposition. But even he notes that the lack of resistance is very different than an outright endorsement. Officials in the mayor's office didn't respond Monday evening to questions about the project.
Breakwater, which would be anchored about 1.25 miles due east of Lake Shore Drive and Erie Street during the summer, would be pulled by tugboat toward shore during the winter months, D'Arcy said. The attraction itself wouldn't close just because it's cold, though. D'Arcy wants to cover it with a dome in the winter while anchored along the coast.
-Chicago Tribune contributed to this report