This is an archived article and the information in the article may be outdated. Please look at the time stamp on the story to see when it was last updated.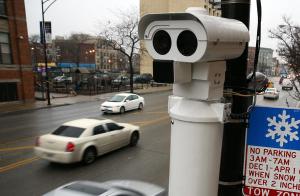 The first speed cameras in Chicago will begin issuing warnings this week.
Four cameras have been installed near Garfield, Gompers, Washington, and Marquette parks.
Warnings will be issued to speeders for a grace period of 30 days.
After that, drivers will be given warnings for the first speeding offense then be ticketed for repeat violations.
The fine ranges between $35 and $100.
The city plans to install fifty speed cameras in schools zones and around parks by the end of this year