This is an archived article and the information in the article may be outdated. Please look at the time stamp on the story to see when it was last updated.
The Chicago Fire Department rescued a dog while battling a blaze in Chicago's Gresham neighborhood Tuesday afternoon.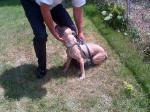 Firefighters responded to an extra-alarm fire at a vacant building in the 7600-block of South Eggleston Avenue. The fire quickly spread to at least two neighboring buildings.
According to the Chicago Fire Department, crews were able to rescue one dog from the building. No injuries have been reported at this time.
The details of how the rescue happened or how the fire started are unavailable at this time.
This is a developing story. Check back for details.
Photos courtesy of the Chicago Fire Department via Twitter (@CFDMedia)
This slideshow requires JavaScript.