This is an archived article and the information in the article may be outdated. Please look at the time stamp on the story to see when it was last updated.
Just hours after Monday's shooting rampage at the Washington Navy Yard, a man threw some firecrackers over the fence at the White House.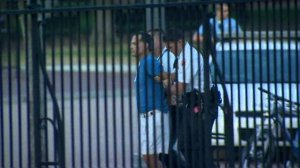 Witnesses say they sounded like gunshots.
Uniformed Secret Service officers tackled the man within seconds, handcuffed him and arrested him.
The White House was locked down as a precaution. It was reopened an hour later.
Police identified the man as Alexander Sahaghan; charges are pending.