This is an archived article and the information in the article may be outdated. Please look at the time stamp on the story to see when it was last updated.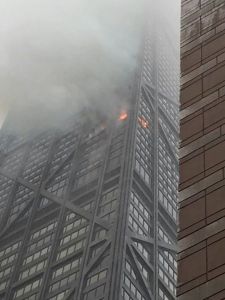 CHICAGO– Chicago firefighters have put out a large fire that broke out on the 50th floor of the John Hancock Center.
They called in extra personnel to do a top to bottom search of the building which is now complete.
Five people, including a Chicago Police officer, suffered minor injuries. Firefighters did not order a mandatory evacuation of the building, but some people did evacuate their units on their own.
Fire officials say the unit's owner told them the fire began in a bedroom.
It's not yet clear what started it.
Residents on the 50th floor are not being allowed to return to their homes yet.