This is an archived article and the information in the article may be outdated. Please look at the time stamp on the story to see when it was last updated.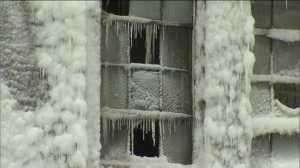 The Chicago Fire Department is calling Tuesday night's South Side warehouse fire the largest they've seen in seven years.
On Wednesday morning, the flames were all but gone and replaced with sheets of ice. The water used by the firefighters to extinguish the flames turned the warehouse into what one local resident called an "ice caste."
Here are some fire and ice pictures, captured by WGN's photojournalists.